Norovirus Outbreak Hits OUHSD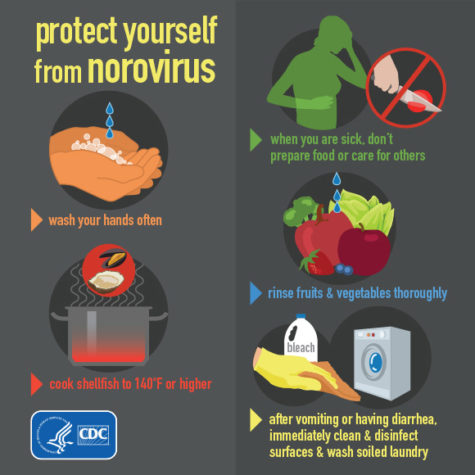 A norovirus outbreak has struck the Rio School District and affected over 500 students over the past ten days, and continues to diffuse throughout Ventura County.
According to an interview with  John Puglisi, superintendent of the Oxnard-area Rio School District in the Ventura County Star, while about 500 students in the Oxnard area initially showed symptoms of norovirus, "the hold of the highly contagious virus appears to be diminishing, with cases at the outbreak's focal point, Rio Plaza Elementary School, falling to fewer than 10 a day."
Although the virus seems to be contained within the Rio School District, a few students and staff at Cam High may have been infected, although nothing remains certain, according to principal Dr. Kim Stephenson.
The winter stomach bug has been prevalent in the Ventura County for a while now, as over 120 residents and employees from various senior living facilities in Camarillo, Simi Valley, and Thousand Oaks have reported symptoms such as vomiting and diarrhea since the start of the California outbreak of the virus in October of 2016.
Commonly mistaken for the 'stomach flu', the Norovirus is a highly contagious virus that causes acute gastroenteritis, which is the inflammation of the stomach and intestines. The infection can spread quickly in closed and crowded environments such as hospitals, nursing homes, daycare centers, schools and cruise ships, the fairly common pathogen causing 19-21 million cases in the United States every year, according to the California Department of Public Health.
The virus can be passed from person-to-person, through contaminated food and drinks, and touching contaminated surfaces. Symptoms of the virus usually begin to show 12-48 hours after exposure and last for one to three days. This may include vomiting, diarrhea, nausea, and stomach pain, along with other symptoms. Young children, older adults and people with illnesses are most susceptible to the virus, state health officials say.
To reduce the risk of infection, proper hand-washing (excluding ineffective hand sanitizers), safe food handling, cleaning and disinfecting contaminated surfaces, and limiting exposure from people who may show symptoms of the virus are proven to be effective methods of prevention against the virus.
"[It's been] a buggy year," Stephenson said. "Norovirus is a stomach problem, not like the plague. [We] don't want anyone missing school due to fear."
Read more about the Norovirus here.
Leave a Comment
About the Contributor
Uyen Mai, Staff Writer
Hello! My name is Uyen (pronounced You-when), and this is my first year working with the Stinger! I'm heavily involved with other areas of the school,...