The Written Word of STEM
Students from Mr. Kevin Buddhu's AP English Literature and Composition and Mr. John Gonzales' AP Environmental Science classes were invited to attend a presentation on Friday, Mar. 18 in Cam High's library detailing the work and experiences of four professionals in Science, Technology, Engineering, and Mathematics (STEM) fields.
The speakers were Mrs. Lara Meeker from the Ventura County Stormwater Management, who has a masters in environmental science and management, Mr. Paul Jenkin, Environmental Director of Ventura County with a masters in ocean engineering, Mrs. Nova Clite, senior hydrologist for Oneida Total Integrated Enterprises (OTIE) with a masters in geoscience, and one of Clite's partners, Mr. John Wingate, senior Project Manager with a graduate degree in civil engineering.
"My goal was to put people who were professional, successful and knowledgeable in front of young people who might want to see that and maybe aspire to it," said English teacher Mr. Kevin Buddhu, organizer of the event.
Though all four of the presenters came from different backgrounds and specific fields of work, they do have common ties: a passion for the environment, and a need to write for their jobs.
Clite and Wingate, who spoke first, explained the company they work for and what they do for their jobs. Their company, OTIE, ensures that its clients keep up with environmental regulations as well as clean up neglected and environmentally endangered areas.
One of Clite's most prominent jobs was the restoration of Camp Roberts for the Army National Guard: 140 acres of World War two barracks and other various buildings falling apart and littering the area. As the buildings crumbled, lead paint peeled, asbestos spread, and a species of bats in the area were ingesting these toxic materials.  OTIE's job was to hire and organize the specialists required to relocate the bats while, and rid the area of the unsafe material in a way that complied with local environmental laws and regulations.
Clite said that despite how scientific, her work often requires writing skills, in order to complete hundreds of documented plans and field reports over the years. "It is absolutely critical to document what we do," said Clite. "These projects we work on have many phases, many different parties are involved, and they take a long time."
Paul Jenkin, a surfing friend of Buddhu's, is Environmental Director of the Surfrider Foundation, a non-profit that works to protect and restore beaches. He is also head of the Matilija Coalition and the Surfer's Point Managed Shoreline Retreat Project. Jenkin has written about his experiences as an environmental activist and his work in the field. He told the classes about writing to local government offices, and how he has to condense down technical articles and make them understandable to the average reader.
Jenkin said that he uses writing on a daily basis as an environmental activist. "Writing is the fundamental means of all communication, whether it's a really technical comment letter or it's just a really short email," Jenkins said. "A lot of what I do, in fact, is I blog […] so a lot of times I'll take a technical issue and I'll summarize it so someone can figure out what it's about even if they aren't an expert."
Following Jenkin was a 2003 Cam High alum, Lara Meeker, who participated in the Aquarian League (a precursor to the Naturally Green Club) on campus which was lead by Buddhu. Through this group, she discovered the Surfrider Foundation and her love for the environment, which later led her to work with the legal side of protecting the planet. "We used to go camping when I was a kid and that's what really got me out there," Meeker said, "It's some of my favorite memories and got me out into the environment […] I wanted to protect that so everyone can enjoy [the environment]."
"I liked the event. The guest speakers were very informative and passionate about [the] environment," said Kathleen Dempsey, member of Buddhu's English class. "Their work helped me better understand and see firsthand the impact an individual can have on lasting change."
Senior Tasha Stuart-Shuman, senior in Gonzales' class, said that the event helped teach her about the practical applications of environmental science. "The speakers definitely taught me about environmental science in the real world. I was especially interested because I'm involved with environmental justice work in my paid internship," she said. "It also connected a lot of seemingly [abstract] environmental science concepts to issues happening in our own county."
Through the event, Buddhu hoped to not only show that what students learn in school has real-life applications, but show future STEM majors in his current classes that writing will always be a part of their studies and career paths.
"Don't shy away from writing classes. We talk about environmental issues because they're of concern to us and I know […] that writing is important [in showing that]," Buddhu said. "These people write and I think that STEM students sometimes may have the misconception that writing is not critical, when in fact no one I know opens up publications and [only] reads equations."
View Comments (1)
About the Contributor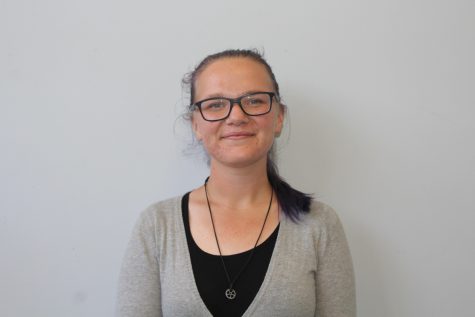 Haelley Hogan, Staff Writer
Hi, I'm Haelley.

My name is spelled kind of funny, I know, it's Irish. But I hope one day it will be better known because I want to become a published...