Power to Powderpuff
[slideshow_deploy id='63676′]
With female football players and male cheerleaders, traditional gender roles have been reversed on Cam High's football field as Powderpuff returns to Cam High after a long hiatus.
Powderpuff is a girl's football league, similar to flag football, which is run by the senior class cabinet. According to powderpufffootball.org, Powderpuff is a girls football game using either the rules from touch football or flag football.
The senior class started it back up this year after a 13 year hiatus after ASB director Ms. Lori Pristera brought up the idea at the same time that Ventura High School contacted Cam High to play against them. "[Powderpuff has] been talked about, for me, for the last thirteen years since I've been here. I wanted it every single year, and it was constantly turned down, and this year the senior class picked it up. It was good timing and everybody on board, and there was a lot of interest and it did really, really well," said Pristera. "Dr. [Kim] Stephenson[, principal] was a big supporter of it, as well as Ms. [Adriana] Pulido, [associate principal] who is in charge of activities, and they both were very supportive of the decisions to do it. The district approved it because of all our support."
According to Pristera, the idea was rejected multiple times before because Powderpuff is a potentially dangerous sport. "[The idea was rejected numerous times before] because it's a red light activity, meaning that there's potential for injuries and harm, but all the girls were athletically clear," she said. "They all have their athletic clearance, and they all had a physical. We had everything in place. We had a doctor down there. The fire department was here, so in case of any emergencies, we had all our bases covered."
Many of the schools within the OUHSD have an established Powderpuff program, such as Ventura High School and Foothill Technology High School along with other districts within the state, such as Conejo Valley.
Powderpuff is a nationwide league played throughout the country; however, some schools play in a professional league while others play for fun. Cam High's Powderpuff team is not in the national league. "We're not in a national league," said Pristera. "It's something we want to do every year – the junior class versus the senior class."
Only junior and senior girls are allowed to participate and do not need any experience to join the team. It is limited to upperclassman in order to generate excitement. "At other schools, [playing Powderpuff] is sometimes just a senior privilege," said senior Joyce Seok, Co-President of Senior Class Cabinet. "It's something for underclassmen girls to anticipate, like prom."
"I think everyone was excited for powderpuff," said senior Kourtney Nguyen, parliamentarian. "In the past years it was never allowed though. But this year we got support from everyone to do it."
Practices are held at the football field every Tuesday and Wednesday from 7-8:30 P.M. At practices, juniors and seniors run drills with their respective coaches. Juniors Oliver Blades, Kolby Dowling and coach Zach McClain, are the junior coaches. Seniors are coached by Caden Muscarella, Steven Santora, Andres Martinez, as well as several other football players.
With 20 years of experience playing and coaching football, McClain decided to coach Powderpuff because he thought it would be fun. "It's a fun activity that all the kids can watch and experience and cheer their classmates on about," he said. "I want everyone to enjoy the experience. It's a fun game, and everyone should enjoy it while they play it."
During practices, coaches reviewed fundamental drills and played scrimmages to practice for the big game on Friday, Mar. 31. Because Blades and Dowling are passionate football players, when the opportunity came up, they naturally took the opportunity to coach for Powderpuff by giving tips on how to improve technique. "We were teaching [a girl] not to be scared of the ball, and to catch it in front of herself," said Dowling.
The girls chose their positions and divided themselves into defense and offense, with seven players per team playing on the field during the final game. The junior coaches have more laid-back practices and often do team bonding activities, while the seniors draw diagrams, set up plays, and play scrimmages. "The coaches make our practices fun, but we still get stuff done," said junior Sarah Urrea.
"[Playing Powderpuff is] fun and cool," said junior Delaney Diaz. "You get to meet other girls from school."
Along the side of the field are the boy cheerleaders who cheer on their players. Junior JP Bjordahl said, "It was fun to mess around with everyone and to be able to support the team. […W]e still practiced everything and got it done."  Because this is his first time cheerleading, he finds it much harder than it seems to be.
At the game on Friday the juniors played against the seniors. The junior class also hosted a food truck, Farm and Flame, which donated 20 percent of the proceeds back to the junior class. All ticket sales from the game will contribute to senior class activities. "[The food truck is] a really good fundraiser. I think it really gets people back into the football season. It brings to life the Friday night lights," said junior Brooklyn Lewis, Co-President of junior class cabinet.
Even though it is Cam High's first time bringing Powderpuff back in many years, junior Alexis Muncy joined the Powderpuff program since it is a great opportunity for girls to play football as there is no official girls football. "It's fun and they should continue it," she said.
"I think we're going to do really good, and we're like confident in our team," said Urrea. "I think we're going to have a good outcome."
Leave a Comment
About the Contributor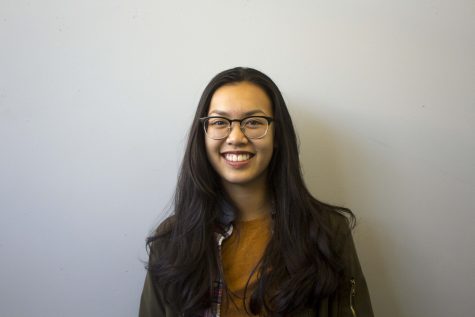 Jacqueline Le, Staff Writer
Hey there! My name is Jacqueline, and I'm a junior at Cam! I love spending my free time playing tennis, traveling, and hanging out with my friends. I'm...