Scorps Spotlight 16: Mrs. Nichole Vicuña
Mrs. Nichole Vicuña, new Special Education (SPED) teacher at Cam High, hopes to make a positive difference in the lives of her students through her teaching skills and encouraging personality.
Vicuña teaches both Earth Science and Biology in room G6 for SPED students. She transferred from Pacifica High School—where she also taught Special Education—about four weeks ago because she saw an opening and wanted to teach closer to where she lived. She replaced former SPED teacher Ms. Adriana Gomez this year due to Gomez's retirement at the end of first semester. Vicuña had already substituted as a SPED teacher about four or five years ago at Cam High.
Before discovering her passion for teaching Special Education, Vicuña worked as a general education Social Studies teacher and taught subjects such as Government, Economics, and U.S. History in San Jose and Ventura.
Vicuña moved to Camarillo from San Jose about five years ago to be with her husband, who was born and raised in Camarillo. Prior to her move, she attended Cal State Monterey Bay, majoring in Human Communications with a concentration in Social Studies Education. She also went to San Jose State University where she received a single subject credential in Social Science, and National University where she earned both her Education Specialist credential and her Masters in Education with a concentration in Special Education.
"I thought going back [to National University] for my two credentials would [help me] understand how to help students that had learning disabilities," she said, leading her to the field of Special Education.
She has been teaching for six years and said that she enjoys every moment since spent interacting with her students. "I love teaching because of [the feeling I get] when a student finally understands something and a light bulb goes off in [his or her] mind," said Vicuña. "Ever since I was a kid I was really good at explaining things and helping my younger brothers and sister with [their] homework. I loved when I was tutoring my classmates or even my siblings and and they got that 'AHA!' moment. It finally 'clicked' and they understood their homework or a particular subject."
While teaching general education, she had students who were struggling and in need of extra support and attention. "I worked at a continuation school in San Jose, kind of like Frontier," said Vicuña. "I loved teaching at that school, as there were smaller class sizes, and I felt [I] really got to know each and every student in the class."
Typically, her students come into class and start on a warm-up, or check their homework depending on if they finished the homework the previous day. From there, they might do an exercise or lab.  Currently, she plans on teaching her classes how different parts of the body work, supplemented with labs that simulate bodily organ function, like the bladder and tissue.
"I know that some things are easier for [some students] and harder [for others], so I allow different time for assignments," said Vicuña. "And if they say something is hard, I break it down into smaller pieces to allow them to be successful."
Vicuña was the first person in her family to graduate from college and receive her credentials in teaching.
"Not having that support at home [has caused me] to really encourage students to at least try [and make it to college]," said Vicuña. "It may not be a four year [journey], it may be a six or seven year, it doesn't matter because you do what you can do."
View Comments (1)
About the Contributor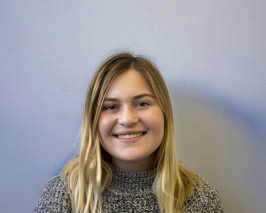 Emma Brock, Managing Editor
Hello! My name is Emma Brock and I'm the 2017-18 Managing Editor of The Stinger. I'm currently 17 years old and a senior here at Cam High. I plan to bring...