Tumbling to the Top
Cam High's varsity cheer and song teams pulled off a clean sweep at the USA's (United Spirit Association) Agoura Regional cheer competition, bringing home first place finishes in the categories of show cheer, stunt, and song on Jan. 21 at Agoura High School.
The competitive cheer team consisted of 16 cheerleaders, of a total of 49 Cam High cheerleaders. The captains are freshman Lily Hayden, junior Jenna Welty, and senior Alyssa Eskridge. Cheerleaders who had tumbling abilities, could perform at least a back-handspring, and were willing to put in the extra time and effort were invited to join the team. While for the songleaders, their team consisted of a total of 15 members. This only the second year there has been a song team at Cam High.
This was the cheer team's fourth competition of the year out of a total of six. The songleaders have two competitions for the year. At the competition, Cam High faced off against three to five teams in their division for each category and emerged in first place each time. The cheer team competed in both the show cheer and stunt categories. While the songleaders competed in the song/pom category.
The cheer team even scored in the nineties out of a hundred for the stunt event. "We were outside warming up for our second performance and we ran in as they called our names and we were like 'We won,' and then we ran back outside to continue warming up for our next event," said Hayden.
The regional event was a qualifier for the USA's Spirit Nationals, which will take place from Mar. 24-26 at the Anaheim Convention Center. With their rankings, the Scorpions qualified for Nationals in both the show cheer and advanced stunt categories. The team also qualified for the show cheer category at the Jamz's Cheer Nationals in Las Vegas, which will take place on Feb 17. At both events, Cam High will compete against schools from across the U.S. While the songleaders competed in the Street Dance Competition in Torrance, CA on February 11 and came away with a second place finish in the song category.
To prepare and practice for the competitions, the team devotes their time and practicing after school. "We practice all the way to 4:30 or 5:00. During practices, we stunt, tumble, jump, and jog. We just keep doing our routine to its entirety," said Welty.
"I think that the practices has helped us out a lot for our competitions," said Eskridge.
However, with two national competitions coming up, the team plans to raise the tempo of their practices. "We are going to have to practice harder, do the routines, and increase the difficulty," Welty said.
Over the past few years, the cheer team fared well in their competitions, usually placing in third or higher. They also won first place at USA's Spirit Nationals in 2014. "We usually place in first at our competitions," said cheer coach Mrs. Amy Shephard. "Last year we didn't place at Nationals because we were in a different division, but every other year we have been in third place or higher."
This year, the team feels that they can continue their success at the USA's and Jamz's Nationals. "I think we have a good chance at [pacing in the] stunt pod and show cheer [categories] as long as we keep practicing," Welty said.
Hayden said that the key to a success is maintaining friendships within the team. "A thing we have over other teams is definitely experience and a bond within the team," she said.
"I think this whole year has gone really well. We have gotten better and I feel like as a whole team, all 16 of us, we have gotten a lot closer. It's like a family within a team," said Eskridge. "Usually teams have a close bond just inside of cheer, but we have a close personally bond inside and outside of cheer."
Leave a Comment
About the Writer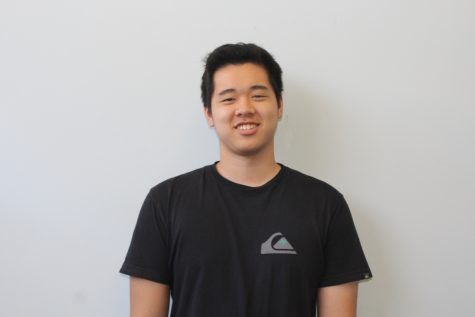 Tony Thai, Sports Editor
Hello. My name is Tony Thai. I am a senior here at Cam High and this is my second year writing for the Stinger. On most days, I like to run away from my...