Student artists sell out (they hope)
Cam High art teacher Mrs. Bonnie Mills and art students from Gallery Club will host their fourth annual Holiday Arts Boutique from Dec. 11, 15 to 18. The art sale will take place from 8 A.M. to 3 P.M.
The boutique will take place in the Art Gallery, room C-15, and  all proceeds will go to Cam High's Fine Arts Scholarship. "[The art sale] is a healthy way for our art students to make a contribution with community service hours that supports the world of art-making," said Mills.
The art students volunteered their art skills and time in order to help make the different ornaments, jewelry, and other household objects. "We are selling hand-decorated wreaths, hand-painted driftwood ornaments, hand-sewn hobo bags, hand-made necklaces and earrings […] and much more," said Mills in an email interview.
Junior and member of the Gallery Club Hannah Harris said that the process of setting up the art sale with her fellow club members was demanding. "I went in at lunch on Mondays and came on the weekends to Mrs. Mill's room for 3 hours with a few other people and we worked on it on our off-time," said Harris.
Harris, as an AP art student, plans to go to art school in San Francisco or Los Angeles and study abroad after she graduates high school. "I just love art in general," said Harris. "Anything art related I really enjoy doing."
Jacqueline Cho, senior, AP art student and Harris' fellow Gallery Club member, also played a primary role in setting up the art sale. "I wanted to do something good for the Gallery Club," she said.
Mills said that she is passionate about her students who aspire to continue educating themselves in the art field, and helps organize boutique every year because she wants to support the scholarship. "The student [who is awarded this scholarship] must be going on to explore a career in the arts and help participate in the fundraising," said Mills.
The scholarship awards the selected student $2000 for the art college or university of their choice.
Leave a Comment
About the Contributor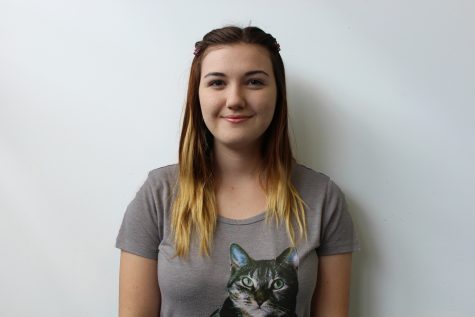 Helena McCabe, Copy Editor
Hello, welcome to our website! I am the Copy Editor for the Stinger. My hobbies and interests include poetry, singing, art, cats, music and exploring the...