Taste and Tell #5: Mama's Hummus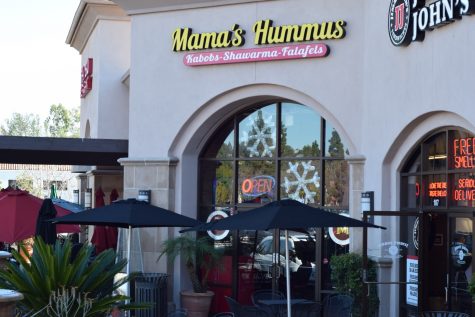 Expressing their promises with the slogan "Serving you not just good food, but great food," Mama's Hummus dishes up fresh Mediterranean and Lebanese food at two locations: one in Newbury Park and one within walking distance of Cam High. This casual eatery boasts both authentic vegetarian and meaty Mediterranean dishes allowing for a unique restaurant option available locally.
The Experience
We arrived at Mama's Hummus during lunch time, and the restaurant was rather crowded. Here, food is ordered, payed, and picked up at the counter- fast food style. But unlike many fast food restaurants, the cashier made customer satisfaction a priority and checked up on us a few times while she was cleaning up the dining area. She even advised Kaylie to open up the wrap on one side so it'd be easier to eat and wouldn't make a mess. Our food took about fifteen minutes to get to us, which felt long, but was reasonable considering the business of the restaurant. Overall, though, our experience at Mama's Hummus was great.     
The Food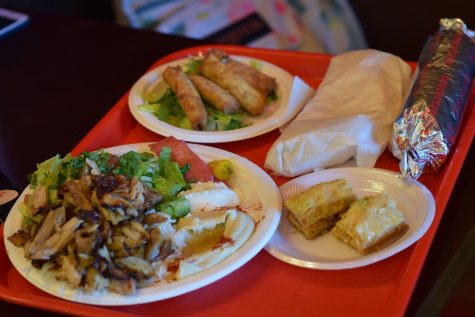 Some of the showcase dishes at Mama's Hummus were various types of shawerma wraps and, of course, the hummus.
Shawerma is a method of cooking meat by wrapping the meat around a rod and placing it on an open, rotating spit. Cooking can last as long as a day and once the meat is ready to be served, shavings are cut off the large mass of cooked meat. The rest of the block of meat is left on the spit and continues the cooking process, creating meat that is hot and freshly cooked every time it is served. Shawerma is traditionally served in the Middle East.
Hummus is made of chickpeas that have been cooked and mashed, then  traditionally mixed with tahini, olive oil, lemon juice, salt, and garlic. It's usually served as a dip or spread in the Middle East and North Africa.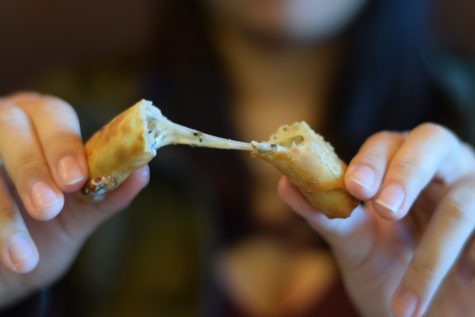 Cheese Rolls
Kaylie: As an appetizer we ordered cheese rolls, and I was very satisfied with the dish; it was probably the best part of my entire meal. Though it was a little pricey at 5 pieces for $6, I was happy with it. It tasted basically like a mozzarella stick, but instead of a breaded coating, it was more like an eggroll shell. The cheese inside was stringy, warm, and delicious. However, I feel that it is a taste that you might get sick of if you eat too much.
Cecilia: I really enjoyed the cheese rolls. They gave the same satisfaction as mozzarella sticks because of the crunchy crust and hot, stretchy cheese. Even though they were delicious, those cheese sticks were very fatty and aren't something you'd order all the time, but rather something you'd crave late at night or while you're thinking about food in class.
Tri-tip Shawerma Wrap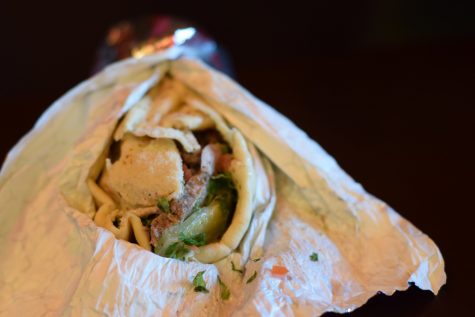 Kaylie: For my main course, I decided to order the tri-tip shawerma wrap. Though it was on the smaller side, it still looked as though it would be filling and delicious. When I first took a bite, however, I wasn't sure how I felt about it. There was a sharp, pickle-ly taste about it that I didn't like, and the tri tip wasn't super tender or tasty. The pita bread encasing the ingredients of the wrap was good, but there was something sour about the entire wrap, which I later found to be the sauce used.
The sauce I was referring to, tahini, is made primarily of sesame seeds, and is a common ingredient in middle eastern food. This ingredient ruined the wrap for me, as it was very potent. After debating if I wanted to continue eating or not, I asked for a plate and opened the wrap to try and scrape the sauce off. When just eating just the tri-tip, the pita bread, and the other ingredients inside the wrap (tomatoes, parsley, onions, and pickles), it tasted fine. However, when the sauce intermingled with all the ingredients, it provided for an unsatisfactory experience.
Without the sauce I feel as though the wrap would have tasted fine, if not a bit dry and bland. This type of food is just not my style, so I didn't particularly enjoy the wrap. If you like Mediterranean food, however, this would be a good option for you.
                                                                                         Chicken Shawerma Plate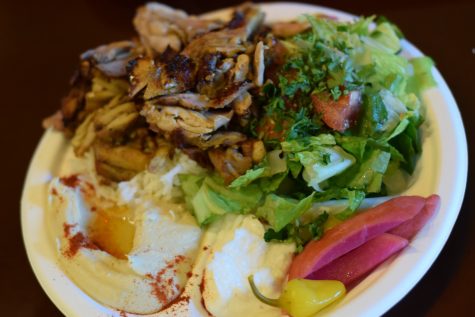 Cecilia: For my main course, I ordered the chicken shawerma plate, which has chicken shawerma, rice, salad, pita bread, hummus, and garlic sauce. Honestly, I found my meal hearty, satisfying, and scrumptious. I ate it by spreading the hummus and garlic sauce on my pita bread and then loading it up with rice, chicken, and the salad. I usually don't like hummus, but Mama's Hummus had a great flavor and provided for a nice base on the pita bread. The garlic sauce was buttery, garlicky, and complemented the seasoned chicken. Since the chicken shawerma had just been cut off of the open spit, it was crispy and flavorful. There was both fatty, flavorful thigh meat and lean, satisfying breast meat.
The dressing on the salad was light and zesty and the lettuce added a fresh crunch to the whole meal. All of these flavorful elements wrapped in their ("made fresh daily") pita bread made for a great meal in which different flavors and textures played well together. My only qualm is that my plate was overpriced for the portion size at about $11, but it was very filling and I left with a full, happy stomach.
Baklava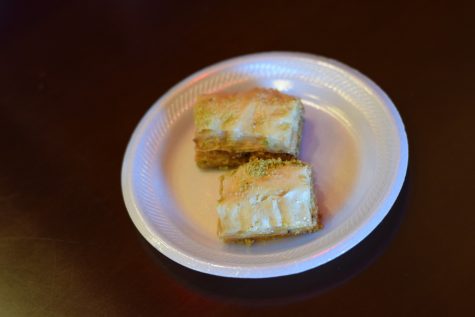 Kaylie: For dessert we ordered baklava, a Turkish delicacy. I had no idea what Baklava was prior to coming to this restaurant, so I had no expectations of this dish. When first seeing it, I was confused as to what it was. I thought it would be a sort of cakey dessert, but the baklava came in small square pieces. It looked very flakey and had a glisten to it which I later found out was honey. When picking it up I assumed that it would be sticky and leave a residue on my fingers; however, it didn't.
When I first took a bite, there was a burst of sweet syrup that coated my tongue and tasted delicious.The baklava was very easy to bite into and had a very sweet taste to it. The flavor is very sweet yet light due to it's size. Though a bit pricey, being around $1 per piece, it's a good thing to try at least once.
Cecilia: I had high hopes for this baklava, especially since Mama's Hummus advertises the baklava as "Made fresh daily", and all of the other food I had just eaten was delicious. But, this baklava was dry and sort of lackluster. The baklava I've had in the past was stickier and had more honey. It had a one-note texture — flaky. There were almost no nuts on the inside. There could be some improvement, but in the end, I still enjoyed it. How can you go wrong with flaky pastry and honey?
Overview
Kaylie: Overall, I had a mediocre experience at Mama's Hummus. The tri-tip shawerma wrap, without the sauce, would have been a satisfying meal for the price. Because I got the wrap with everything, however, it didn't taste good to me. The cheese rolls were a bit overpriced, but were still the best part of my meal. The baklava was a good way to end the meal, but it was a bit sweet, and I could've done without it. Personally I don't really prefer this type of food, so unless one of my friends really wants to visit this establishment, I doubt that I'll be back.
Cecilia: My meal at Mama's Hummus was satisfying, and the experience itself was nice too. The whole meal was great, from the melty cheese rolls, my satisfying chicken shewarma plate, and the sweet baklava. The food was overpriced for the portion size, but regardless, I will definitely be coming back again.
Leave a Comment
About the Contributors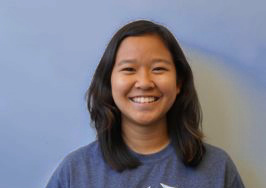 Kaylie Chen, Video Editor
Hello! My name is Kaylie Chen and I'm currently a senior at Cam High. I love reading, listening to music, and watching YouTube videos and shows on Netflix....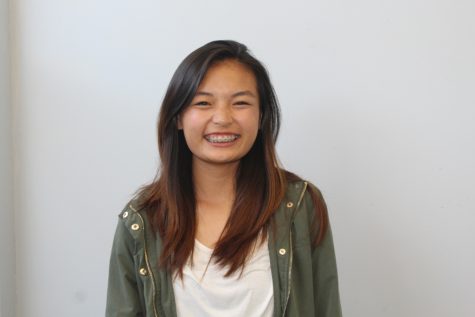 Cecilia Bach-Nguyen, Staff Writer
Heellooo! My name is Cecilia, but you can call me Cece. I'm a junior here at Cam High who loves eating (you could call me a foodie), as well as traveling...