It's Time to "B Positive"
Students, staff members, and parents donated blood for Cam High's annual blood drive in the school cafeteria on Dec. 10 and 11. The United Blood Services will donate the blood to patients in need at local area hospitals throughout the United States.
The drive took place from 8:30 a.m. to 1:30 p.m. both days, with a new group of about seven or eight students being admitted every 15 minutes. Two hundred and eight units of blood were collected in total, 115 units on Dec. 10 and 93 on Dec. 11.
A few of the 105 people who donated on Dec. 5 gave blood twice, making it so that Cam High reached the 100 unit-per-day goal set out by the United Blood Services.
For those who could not donate this month, there will be another blood drive taking place during the Spring of 2015.
A computer glitch earlier in the day prompted a delay in the drive's opening.  The error was quickly remedied, but caused the entire's day schedule to be set back.
"It took them two and a half hours to get everything they needed from my blood," said Christian Serrano, junior. "Since it was a collegial day, I ended up missing half of fourth period, all of fifth, all of lunch, and half of sixth period. All of my teachers knew the drive was going on though, so they were really nice about the work I missed."
The students who donate are given 100 'Hero Points' by United Blood Services, which can be redeemed at a later date for "thank-you gifts," according to their website. Furthermore, Bronze, Silver, and Gold levels of donation exist, and the donor is assigned a level based on how regularly they donate, with Gold being the highest.
"This event is good for the students, the school, and I think it's good for the community too," said Mrs. Mary Harris, Cam High's school nurse. According to Harris, Cam High donates more blood than any other school in Ventura County and has held that record, at least for the fall drive.
"Honestly, I just signed up to donate to get out of class," said Chanmin Kwon, junior. "I wasn't really thinking about it then, but afterwards, I realized that all the small contributions everyone was giving could really add up to help save a lot of lives."
Serrano stated that his primary motivation to give came from knowledge he gained from taking AP Biology. "In biology, we learned that O positive is the only blood type that can give to anyone. It's universal, so I can help save many lives. That's why it's especially important for people like me, people who are O positive, to give."
The requirements to participate in the blood drive included being at least 16 years of age and having had permission from a parent or guardian. The permission form also included helpful information and FAQs (frequently asked questions).  To be a donor, you must comply to a certain height-to-weight ratio to ensure that a safe amount of blood is taken.
Blood donors were also interviewed to screen out those who had potential blood diseases and those who had injected themselves with drugs within the past six months.
"The interview questions took awhile, like fifteen minutes, and made me a bit uncomfortable," said Kwon. "But it's completely understandable why they have to go through the process."
Harris coordinated with Mrs. Sherie Devillers, a representative from United Blood Services, to orchestrate the blood drive at Cam High.
Harris said that the blood drive is a good chance for students to show what they are made of. "This is a good event because it sort of 'breaks the stereotype' of teens," she said. "Not to sound negative, but this event shows that teens can be selfless, and not just lazy and on their phones. I'm really proud [of the students], when they step up."
ASB volunteers manned a snack-table for donors that offered cookies and hot dogs, as UBS officials said that consumption of calories speeds the healing time after blood-donation. Donors also received a free T-shirt.
Leave a Comment
About the Contributor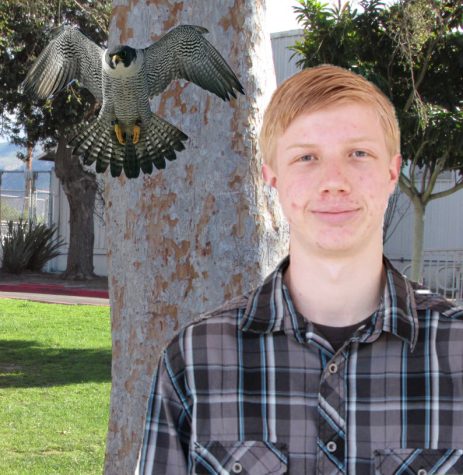 Sam Falconer, Retired Staff Writer (2014-2015)
Hi, I'm Sam Falconer. I'm a senior this year, so, yeah. Anyway, I am a film connoisseur and an avid reader and writer. I am also a lover of all things...