Boys Basketball Jump-Starts Season
[slideshow_deploy id='61128′]
Last year, Cam High's Boys Varsity Basketball held a 25-7 record and went all the way to the CIF-SS Division 1A semifinals, but lost to Temecula Valley High School by a margin of just three points. In the off-season, the team garnered much attention as they looked to be strong contenders in the Coastal Canyon League with the return of senior guards Justin Nguyen, Jonah Cottrell, Brandon Adair and sophomore forward Jaime Jaquez Jr., who lead the team last year in points per game and in rebounds.
After adding new players to the team, the Scorps set new goals for the beginning of the season. "[The team has a] new season with new goals. This is a new team with completely different chemistry," said head boys basketball coach Mr. Michealtore Smith. "The expectations remain high, but this group will have to work hard and create a new story different from last year. We hope that our guard play will be better than most teams we face this year. We should be quicker and more skilled at most positions."
In the season opener on Tuesday Nov. 29, Cam High kept the train rolling with a win as they steamed past the Agoura Chargers 71-43. Cottrell lead the way with a game-high 24 points and Jaquez played earned a double-double with 18 points and 10 rebounds.
Cottrell gave Cam High a quick lead with back-to-back baskets to start the game. Agoura came back with their own points to tie-up the game. Minutes later, Cottrell scored a three-pointer, then Nguyen stole the ball from Agoura on an inbound pass and made a layup to take back the lead for Cam High. Both teams scored a few more points as the defense-oriented first quarter ended with Cam High leading 15-9.
Agoura jump-started the second quarter, scoring first, but sophomore Mark Bolo came off the bench and hit back-to-back threes as the Scorpions began to run away with the lead by making more threes, driving to the basket, and converting multiple and-ones. Cam High held a 38-24 lead as players headed into the locker room for halftime.
The Scorps came out in the second half with newfound energy, playing at a quicker pace while swarming the Chargers on the defense to prevent them from shooting outside shots. Continuous fast breaks gave Cam High open shots, and eventually led to a back scratcher dunk by Jaquez that left the crowd in awe. Cam High extended their lead to 21 points as the third quarter ended.
As the game went on, the home crowd began toying with the Agoura players by yelling at them as they lined up to take free throws. To the delight and amusement of the crowd, it worked, as the Agoura players began missing free throws. "It was a great feeling knowing that the taunting worked. I had a great time. I've studied multiple ways to taunt the opponents," said Cam High senior Sebastian Castro.
The Scorps continued to dominate over Agoura in the fourth quarter, as they pushed their lead up to 30 points, allowing a chance for second-string players to play as the game came to a close. "I think we played well in spurts but need to improve. We were able to force some stops on defense and that led to some easy offense," said Smith. "We need to improve on playing great defense over a more extended period of time."
"I feel like people are missing out by not going to the games, especially with great players like Jaime and Jonah. They put on a show for the town," Castro said.
Cam High (2-0) beat Ventura (0-1) on Thursday and will play against Crespi (1-1) next on Monday, December 5th in the Sierra Canyon Invitational Tournament.
Leave a Comment
About the Writer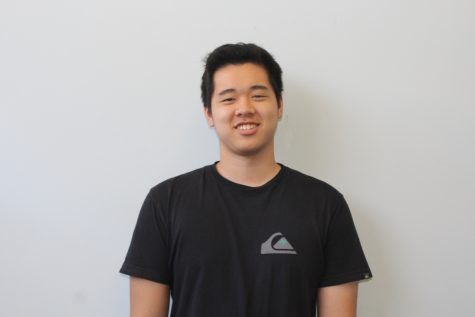 Tony Thai, Sports Editor
Hello. My name is Tony Thai. I am a senior here at Cam High and this is my second year writing for the Stinger. On most days, I like to run away from my...