Eating out of the GeoBowl
FAs champions in last year's Geography Bowl, three hopeful Cam High teams participated again in this year's competition in hopes of reclaiming the title.
Alexander Paul, senior, took home the third-place award in the individual contest, a 50-question multiple choice written exam. None of the other teams placed in either the group or individual categories.
Paul, whose team won the first-place trophy last year, was not disheartened by his team's loss. "It's nice knowing that, for at least a year, we were the top team and so it's good to end on that memory and look on that positively," said Paul, a four-year Geography Bowl veteran.
The Geography Bowl, colloquially referred to as GeoBowl, is an annual county-wide competition hosted by Oxnard College that tests students' knowledge of geography through both team and individual efforts. Every year, the competition centers around a specific theme in line with the National Geography Week's theme, this year's being "Mapping the Americas."
"I liked the team competition because it was a lot of group bonding and we just helped each other. It was a good experience," said Avinash Nandakumar, sophomore.
The team rounds consisted of an all-play-all trivia event, with each six-member team answering questions on large cards and holding them up when the judges called time. The questions themselves covered a wide range of topics, including Ventura County agriculture, U.S. history, and world economy.
"The questions were extremely hard. We got 9 right out of the 20 [correct]," said Nandakumar. Despite the loss, he said participating in GeoBowl was "still worth the effort, and a lot of fun."
Attendance was higher at this year's GeoBowl as opposed to last year, with 148 students from 14 different high schools participating and even a few participating middle school teams.
"It's a fun environment," said Shivani Govil, junior. "[My team and I] had fun. We tried our best. We didn't win, but there's always next year."
Leave a Comment
About the Contributor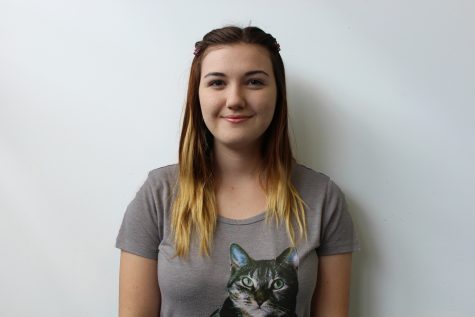 Helena McCabe, Copy Editor
Hello, welcome to our website! I am the Copy Editor for the Stinger. My hobbies and interests include poetry, singing, art, cats, music and exploring the...