Cam High Football Loses on Senior Night
[slideshow_deploy id='60544′]
Last year, Cam High's varsity football team earned a historic 15-1 record and advanced all the way to the CIF Division II State Championship game. This year, the team is in a noticeably different position as the season winds down.
Cam High has struggled all year to get wins, and the struggle continued on Senior Night as the Scorpions fell to the Westlake Warriors with the score of 14-27 on Friday, October 28th. Cam High entered their final home game with a 2-6 record following a 7-49 blowout loss to Oaks Christian. On the other side of the field, Westlake went 1-6 in non-league play but now have won both their league games. The win sets up Westlake to play for the Marmonte title next week against Oaks Christian, who are also 2-0 in league play.
Minutes before the game started, Cam High honored 29 football seniors as they prepared to play in their final high school home game. "[This game] was an eye opener, it made me think about all four years and how fast they went by so fast. It makes you think about how we worked so hard and so long and it's coming to an end," said senior offensive lineman Kyle York. "When you're a freshman you think you have time to enjoy football for four years and then those four years fly by."
Westlake started with the ball in the first quarter, but punted it away after failing to get a first down. With their first possession, Cam High fell behind on downs after a holding penalty. On the fourth down, Cam High's punt was blocked and recovered by Westlake. Even with good field position, the Warriors failed to score any points. A majority of the first quarter was spent in a scoreless tie. With seconds left, Westlake's quarterback fired a back-shoulder fade on third and 20 that was caught for a touchdown to end the scoring drought by both teams as the first quarter ended 0-7 in Westlake's favor.
Seconds into the second quarter, Cam High turned the ball over on an interception. However, the defense was able to keep Westlake from scoring. On their next possession, Cam High was intercepted again with five minutes left to play in the first half. Westlake then scored another touchdown, but it was called back after a penalty. A few plays later, senior safety Josh Sexton intercepted a pass to give the Scorpions another chance to score. However, Cam High's offensive woes continued as they punted the ball away. Westlake scored a touchdown on a 15-yard rush but missed the extra point to only put them up 0-13 with the second quarter coming to a close.
In the third quarter, Westlake added to their lead with another touchdown, but failed to convert the extra point for a second time in a row. Even with two missed extra points, Cam High was still scoreless and down by three touchdowns. Cam High threw their third interception on the next drive, but Westlake threw an interception themselves after taking the ball away. With the momentum finally on Cam High's side, the Scorps drove down the field, senior running back Aaron Lamb powering his way through a defender, to finally give Cam High their first points of the game. Instead of kicking the extra point, Cam High went for the two-point conversion and succeeded in digging into Westlake's lead. The quarter ended with Westlake still ahead 8-19.
At the start of the fourth quarter, Cam High recovered a fumble by Westlake to the delight of the home crowd as a possible comeback was in their sights. On the very next play however, Cam High attempted to trick Westlake with a flea-flicker but Westlake was not fooled and picked off the pass to give Cam High their fourth interception of the night. After a few plays, Westlake scored on a 1-yard touchdown run to end Cam High's comeback chances. A bit too late, Cam High scored their second touchdown on a 18-yard touchdown pass to junior Kolby Dowling before Westlake ran down the clock to give Cam High a loss in their final home game.
"I thought our team played hard and battled for all four quarters. Any loss is a tough loss," said head coach Jack Willard.
Cam High (2-7, 0-2 league) will play their final regular season game against the St. Bonaventure Seraphs (5-4, 0-2 league) on Friday, November 4th. The winner of this game will finish third place in the Marmonte League. If Cam High wins, they will gain a small chance of making the playoffs.
Leave a Comment
About the Writer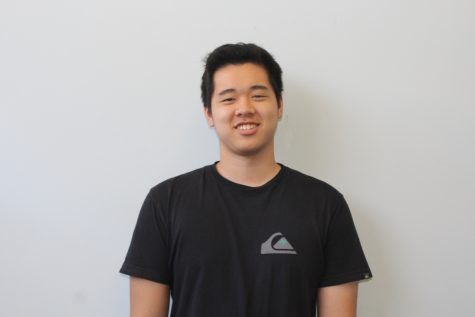 Tony Thai, Sports Editor
Hello. My name is Tony Thai. I am a senior here at Cam High and this is my second year writing for the Stinger. On most days, I like to run away from my...