Taste and Tell #2: Just The Vegan-ing
In recent years, veganism has become more mainstream among millennials, many converting to plant-based diets for ethical, environmental or health reasons, and with Camarillo's close proximity to Los Angeles- the vegan hub of California- vegan diets are becoming less and less taboo in the Cam High community. A couple members of the Stinger staff decided to try and find vegan meal options from restaurants in Camarillo that could cater to the growing population of vegans.
We visited three local establishments with three different cuisines, our team consisting of vegan, Chloe Schicker, as well as omnivore, Kaylie Chen, to locate good food that is eating restrictions friendly. An active member of the vegan community and fellow Cam High student, Christopher Keating was our guide for the afternoon showing us his favorite places to eat in Camarillo.
Restaurant 1: Pizza Rev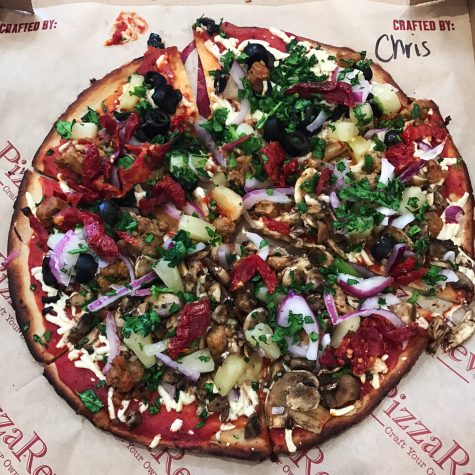 Pizza with a gluten free crust, vegan cheese (daiya), vegan sausage, pineapple, mushrooms, olives, red onions, spinach, sun dried tomatoes, and red marinara sauce  ($12)
Kaylie: Prior to embarking on this vegan adventure, I imagined that all the food I would be trying would taste drastically different from the cuisine I was used to, however, I was mistaken. This pizza at Pizza Rev, though created with vegan ingredients, tasted almost exactly the same as non-vegan pizza. While the cheese was sweeter than usual, and the crust was crunchy and thin, it tasted mostly the same. I was particularly surprised by how similar the vegan sausage was to regular sausage. If someone had ordered the pizza without letting me know that it was a vegan pizza, I don't think I would've been able to notice the difference. However, the pizza wasn't anything special, the sauce was okay, the toppings were fresh, but it really just resembled a typical pizza. Though Pizza Rev might be a good vegan option, it is on the pricier side, so I would not choose to dine here considering other locations I could frequent.
Rating: 6/10
Chloe: Pizza Rev offered a wide variety of options ranging from five different sauces and countless amounts of vegan friendly toppings for the pizzas. The unique "build-it yourself" style to the restaurant adds a nice touch to the customization of the pizza to fit your needs and supports vegans and non-vegans alike. Upon first bite, the pizza explodes into euphoric flavors crossing a wide spectrum of tastes- every bite discovering a new combination of flavors. I love how they offered several types of vegetables as toppings, it made me feel healthy even though I was eating pizza. The vegan sausage tastes strikingly similar to the real deal and had a great zing of spiciness that brightened the entire pizza.While the Daiya vegan cheese tastes pretty close to real cheese, it contains a sharp, almost sweeter kick to it. While the idea of ordering gluten free crust scared me a bit, it was a knock out of the park. The bread performed stiffer than most pizza doughs, avoiding the unappetizing droop of a typical pizza slice and was more crunchy than most affordable thin crust pizzas I've had.
Rating: 9.4/10
Pizza Rev total rating: 15.4/20
Restaurant 2: Chipotle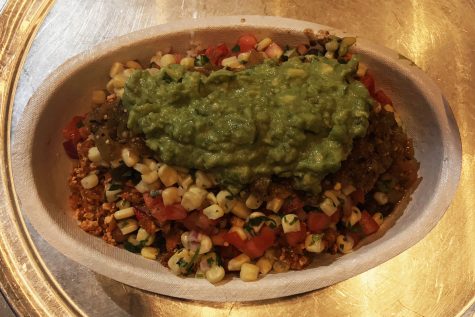 Chipotle Bowl with white rice, pinto beans, black beans, sofritas ("a fragrant blend of herbs and spices with tofu, onion green, bell pepper, tomato, dried oregano, chipotle pepper, garlic and cumin"), pico de gallo, green sauce, tomatillos/mexican husk tomato, tomatoes, jalapeno peppers, red onions, freshly chopped cilantro,  guacamole, corn ($10)
Kaylie: Upon entering Chipotle, I figured the vegan option would be to get a bowl with just vegetable options, omitting the meat, and I was mostly right. We got a simple burrito bowl with only vegetables, no meat, and it honestly tasted the same as its meat-full counterpart. If you love the taste of Chipotle, then this would be a good option for you! It costs relatively the same as a regular burrito bowl would, so if you have been regularly going to Chipotle, why not try it out? It's a healthier option and tastes just as good as a regular bowl of Chipotle.
Rating: 8/10
Chloe: At first I was surprised to learn that Chipotle was going to be one of our stops considering I associate Chipotle with overwhelming amounts of meat in their burritos, not the number one thing a vegan is looking for in a meal. However, I was pleasantly surprised. One thing to take note of is that vegans aren't picky eaters. Once your diet is restricted as extremely as it is when you convert to veganism, it kinda forces you to try new things and be open minded about what you eat, so as long as it meets my dietary needs, I will eat it. The Chipotle wasn't as heavy or dense as I once remember it being, I think the guacamole, which was a $1.95 extra, (curse you Chipotle for making the best thing on the menu so expensive) really helped to lighten and refresh the meal. The ingredients appeared to be fresh and the sofritas were pretty tasty. While they didn't add a ton of actual flavor to the dish since it was essentially tofu, they provided a texture that nicely complemented burrito bowl. The star of the show for me, however, was the salsa and guacamole combination. The "Tomatillo-Green Chili Salsa" bursted with spiciness, coating the other ingredients in the bowl in a delectable flavor that brought the bowl to life. The other contents of the bowl were pinocchio and the chili salsa was Gepetto. Not to mention I am a sucker for avocado and immediately fell for Chipotle's over priced guacamole. I might go back just to purchase more salsa and guacamole.
Rating: 8.7/10
Chipotle total rating: 16.7/20
Restaurant 3: The Curry Leaf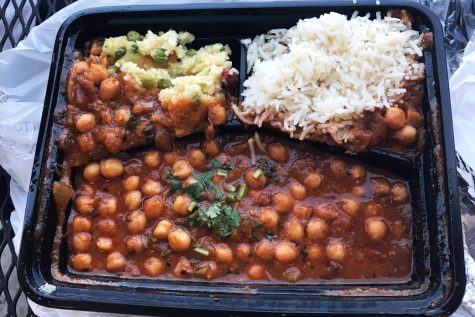 Chana masala (chickpeas with a curry tangy tomato sauce, chili, ginger, garlic, coriander and onion, topped with diced onions and cilantro) with roti (whole wheat flat bread) ($11)
Kaylie: Upon seeing that we were going to the Curry Leaf, I was surprised. I had been there before, but I typically associated Indian food with curry that included meat, so I wasn't sure what we might be trying. However, when the dish arrived, I was pleasantly surprised. This meal was my favorite out of all the ones we were able to try. The taste of the spices in the chana masala mixed wonderfully with the rice and roti given to us on the side for the lunch special. As it was a cold day, the dish warmed me up and made for a delightful meal. Furthermore, for the amount of food provided for this meal, the price was the most reasonable of the other restaurants. I would definitely recommend coming here, whether you're looking for vegan food in Camarillo or just good Indian food.
Rating 10/10
Chloe: Indian food is a great easy option for vegans, since at a lot of regular restaurants I have to customize my meals by adding or taking away certain items from the original menu item. But at this Indian restaurant, they have an entire section on the menu dedicated to vegetarian/vegan meal options. With the Chana Masala, I didn't have to worry about filler ingredients such as soy-based tofu or attempted mock-meats. The first bite of chickpeas and curry was enticing, I was delighted by the multiple spices grazing my tongue. The flavors of ginger and chile popped in my mouth like fireworks. The roti complemented the dish perfectly, I began to scoop up the sauce with the bread making for a delicious combination.  I fell in love that day with the spicy satisfaction that is the Curry Leaf's chana masala. Since this taste test, I've gone back multiple times to explore their menu further and have loved everything I ordered. I highly recommend Curry Leaf to everyone, vegan or not.
Rating: 10/10
Curry Leaf total rating: 20/20
Discovering restaurants that cater to vegans is a breath of fresh air considering the complexity of unknown ingredients used in the cooking process. Though it may seem as though there aren't many places within Camarillo that allow vegans to eat what they desire, there are hidden gems within everyday restaurants that cater to their specific dietary needs. 
Leave a Comment
About the Contributors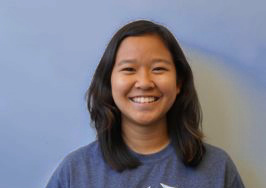 Kaylie Chen, Video Editor
Hello! My name is Kaylie Chen and I'm currently a senior at Cam High. I love reading, listening to music, and watching YouTube videos and shows on Netflix....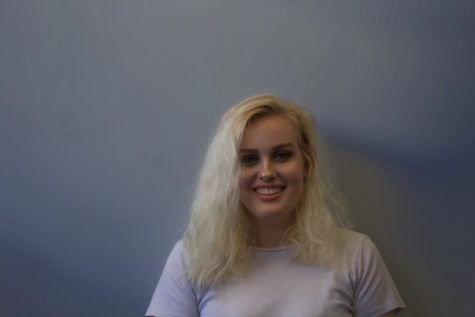 Chloe Schicker, Editor in Chief
Hi, I'm Chloe this year's Editor in Chief of the Stinger! I'm so excited to be apart of our school's newspaper this year and I hope you enjoy our site!