Boys Water Polo Victorious in Final Home Game
In their last home game of the season, Cam High's boys water polo was victorious in a 7-3 win against the Calabasas Coyotes on Wednesday, October 26.
Senior Andrew McCooey scored within three minutes to give the Scorpions the first point of the match, followed by two more goals to extend their lead. Calabasas failed to score as junior Cooper D'Inca either blocked or deflected every shot attempted by the Coyotes. The first quarter ended with Cam High up 3-0.
Both teams started off slow and missed several scoring opportunities during the second quarter, until Cam High broke the scoring void with a goal. A minute later, Calabasas successfully wrestled past Cam High's defense and scored their first goal of the game. With only a second left in the quarter, Rodriguez fired the ball past the Calabasas goalie to score and beat the clock. The first half ended 5-1 in Cam High's favor.
At halftime, the teams switched sides and Cam High held a ceremony to honor and bid farewell to their graduating seniors, Harrison Mello, Andrew McCooey, and Michael Rodriguez, with cheers and flowers. "Today was our final day for our seniors. Michael Rodriguez, Harrison Mello, and Andrew McCooey have been with us for three to four years and I can't believe its gone that fast," said head coach Dennis Reidmiller. "[I always] hate losing seniors, especially when they're great kids as those three are. I think it's more emotional for the parents than anyone else, because they've invested so much time and energy into their kid's high school career."
The Scorps started the second half by scoring first, but the Coyotes answered back with their own goal to put them within three goals of the leaders. Cam High continued their dominance as Mello stole the ball in front of the Calabasas goal and scored with only the goalie to beat. The quarter ended with a score of 6-2.
In a change of events, Calabasas scored first in the last quarter after several pump fakes to fool D'Inca, as the ball went straight into the back of the net. After several back-and-forth drives from both sides, Cam High scored for the seventh and final time with two minutes left in the match.
At the end of the game, Cam High's team and fans cheered and celebrated as they secured the win for the final time at home, with a final score of 7-3. "I thought the game went really well. I thought defensively we play a very good game. Probably our best game all year long," said Reidmiller. "Offensively we put seven goals in the net but we must have had ten goals go off the goalpost so we must start doing a better job at putting the ball in the net. I think we did a good job of sticking to our game plan."
"I thought our team played well. We went in strong and had high energy all game long," said Rodriguez. "It was very emotional. These past three years have gone by a lot quicker than I expected but I have enjoyed every minute in this pool. Its been fun this whole time. It's a blessing to play in this pool and it's a great place to call home for the past three years."
The team will play in their final regular season game next against the Moorpark Musketeers on Wednesday, November 2 at the Body Exchange Gym.
Leave a Comment
About the Writer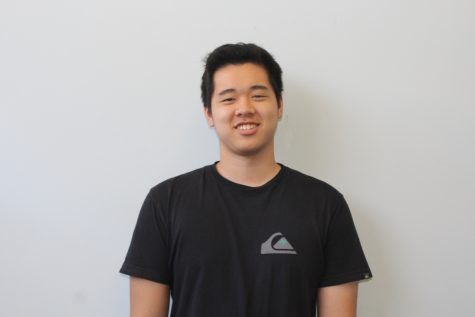 Tony Thai, Sports Editor
Hello. My name is Tony Thai. I am a senior here at Cam High and this is my second year writing for the Stinger. On most days, I like to run away from my...