Just Ruck It
[slideshow_deploy id='61038′]
Cleats dig into the grass, kicking up dirt as the fullback prepares to tackle the opposing player sprinting towards the goal line.  Players collide and fall to the ground.  The teams set up for the ruck, grouping together as the rugby game enters its final minutes.
At Cam High, students can join the Rugby club to play a sport full of energy, skill, and strength, according to junior Matt Ullerick, co-founder of the Rugby Club at Cam High.
Pioneered in early 2015 by Ullerick and junior Andy Soto, the club aims to increase awareness for the sport of rugby while providing students with a fun experience. "[We] felt that rugby wasn't growing enough in our community and it wasn't growing enough in Ventura County. We felt, as if, the club that we were in, Orca Rugby, wasn't enough," said Ullerick.
The club encourages students of all grade levels and statures to participate. According to Ullerick, anyone can learn the sport. He and other club members regularly reach out to the whole school for recruitment purposes. "Even if you've never played a sport in your life, rugby is for you. It's very easy to pick up," he said.
"I can teach you rugby [even] if you don't speak English," said former professional rugby player Mr. Douglas Harris, a new math teacher and the rugby coach. Harris previously played American football, but was injured and began playing rugby. He has been playing for almost 30 years. Throughout his rugby career, he spent eight years in Europe coaching and playing in addition to three years playing in South Africa.
Harris then went on to teach rugby to both men and women of all ages. "[I look forward to] giving my lifelong love of rugby to students and watching them discover what an amazing game it is [and] enjoy success," he said.
Currently, there are 21 new members out of a total of 31. This program includes a boys and a girls team which practice together, but compete separately. The boys season begins in late October and ends in the beginning of February while the girls season begins in the end of February and end in late April. The club also participated in five tournaments last year.
The club encourages new members, both boys and girls, to attend practices Monday through Wednesday from 3:30 to 5 P.M. and Thursdays from 3-5 P.M. behind the football bleachers. At practices, members run through rugby drills and skills, such as passing and juking. "My favorite part [about rugby] is getting my anger and aggression out by tackling people," said Natalia Barajas, senior and second year rugby player.
When the club first started, the club only had a few female members. "[Sometimes], no girls would even show up to practice," said Ullerick.
Now, the club consists of more girls than boys. The 18 female members fill both a junior varsity and varsity team, while the 14 boys compose only a varsity team. "We encourage girls to [join]. It's not just a boys' sport; it's a girls' sport also," said junior Destiny Stein, rugby secretary. "Before, I would be scared to hit people and [when] people hit me I would run away, but I shouldn't be scared of going against a boy."
President Antonio Corral, junior, hopes the club will become a sixth period sport that fulfills P.E. requirements by next year. By becoming an official sport, the players would be able to travel by bus, rather than carpooling. The opposing rugby teams are all high schools teams,  most of them located in the Valley. "I look forward to travelling to other schools to play [other teams]," said junior and new rugby member Wallace Byrd.
Throughout the years, the club has grown to be a tight-knit community, according to junior Sheyla Salazar. "It's a fun sport and you get close to people," she said. "At the end of the day, [the team is] like your family. You have communication on and off the field."
Leave a Comment
About the Writer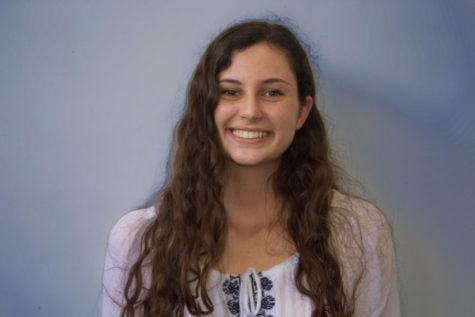 Rachael Ryan, Managing Editor
Hi! I'm Rachael and I am a senior. As the news editor, I am looking forward to reporting the exciting things our student body and staff will do this...