Five Seniors Awarded for Highest PSAT Scores
The National Merit Scholarship Foundation released the list of 2016 semifinalists on their official website on Sep.14, and it included five seniors from Cam High: Helen Zhang, Christopher Nguyen, Joyce Seok, Alex Li, and Marcello Ma.
The National Merit Scholarship is an annual academic competition held nationwide for high school seniors who are top scorers on the Preliminary SAT/National Merit Scholarship Qualifying Test (PSAT/NMSQT). The test is administered to about 1.6 million students per year, and about 50,000 students nationwide are nominated each year. Of those 50,000 nominees, 16,000 semifinalists are chosen. The semifinalist cutoff score for the Class of 2017 was 1470. In the end, only 7,500 National Merit Award winners are chosen from the Finalist group.
"All winners of Merit Scholarship® awards (Merit Scholar® designees) are chosen from the finalist group based on their abilities, skills, and accomplishments—without regard to gender, race, ethnic origin, or religious preference," according to the official National Merit Scholarship website. National Merit Scholarship Corporation (NMSC) selectors also evaluate finalists by examining their academic records, the school's academic record and grading system, the student's test scores, the finalist's academic and leadership activities, and the finalist's own essay. Semifinalists must also acquire a written recommendation from a member of their school's administrative staff upon being chosen as a semifinalist, for final selection. Over all, the NMSC looks to reward well rounded, excelling students.
The five semifinalists had different reactions to the news. "I did try hard on the PSAT when I took it and got a 1510, but I wasn't sure what the [minimum score for the] National Merit was," said Seok, who was surprised by her nomination.
Not only is the nomination considered an honor, but if the semifinalists are chosen as finalists, then selected as winners from the finalist group, large amounts of scholarship money are available for them. The National Merit Scholarship Foundation can give each finalist up to $2500 in scholarship money, and the finalists are also eligible for corporate-sponsored and college-sponsored Merit Scholarships.
Corporate-sponsored merit scholarships are scholarships given by companies to their employees' children, to the residents in the area that the company operates, or to finalists whose career plans involve the company's fields of interest. Some of these scholarships may cover four years of undergraduate study.
College sponsored merit scholarships are scholarships that are given by colleges that the finalists have been accepted for admission to and have informed the NMSC that the sponsoring college is their first choice. These scholarships may also cover up to four years of undergraduate study.
Merit scholarships are sponsored by over 420 independent sponsor organizations, which include businesses, company foundations, professional associations, colleges, and universities. "It's definitely exciting, because I have a chance at getting scholarships that [can help cover] my tuition next year," said Zhang.
Although College Board has a few practice tests available online, not many study materials were accessible. Ma said, "I studied Khan Academy tests and exercises for three weeks [to prepare for the PSAT]. Four years of preparation for the old SAT also helped." He said that he was not surprised by the nomination because his score was well above the cutoff for the scholarship.
"To prep for the PSAT, I studied for the ACT. Go figure. Learn the concepts, not the tricks," said Li, whose unconventional study process earned him an above average score.
They also recognized seniors Kristi Chu, Paul Chun, Bryce Dearden, Elisa Han, Gabriel Johnson, Annabel Kim, Michelle Liu, Avinash Nandakumar, Cailey Renken, and Iris Shim as Commended Students. Commended Students are students that scored in the top five percent in the nation on the PSAT/NMSQT.
"These students are not just great scholars, but they're also very high profile [on campus]," Cam High principal Dr. Kim Stephenson said. "I hope that by administering the PSAT this year, that we'll have more qualifiers over time." Semifinalists will be notified in February if they made it to the finalist group.
View Comments (1)
About the Contributor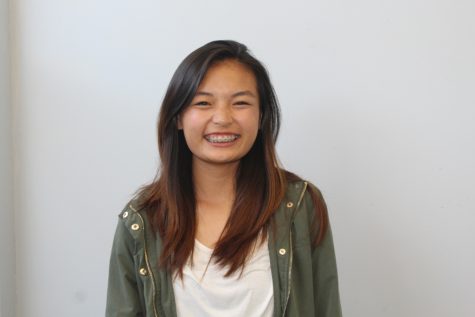 Cecilia Bach-Nguyen, Staff Writer
Heellooo! My name is Cecilia, but you can call me Cece. I'm a junior here at Cam High who loves eating (you could call me a foodie), as well as traveling...