Movie Mondays 4: The Godfather (1972)
What hasn't been said about this film already? The Godfather has already been praised by every single critic on the face of the Earth. Finding a person who doesn't like The Godfather is the film equivalent of finding Sasquatch or the Loch Ness monster. Infinitely praised since its initial release in 1972, this mob drama is widely considered one of the best films ever made, if not the absolute best. But is the film really deserving of all the praise that it garners? Or is everyone simply jumping on the growing bandwagon that has thrived for the past four decades?
The film is a very typical and well-done gangster film, with some riveting performances and cleverly done scenes. The plot is much to complex to fit into this article, with the mob's sinister antics changing the film's direction with each new scene. However, I will say that there is plenty of typical mafia fare, with 'sleeping with the fishes', double crosses, and various villainous deeds all present.
The film is directed by the much-lauded Francis Ford Coppola, who also co-wrote the screenplay with Mario Puzo, author of the novel the film is based on. The film has an incredible cast as well, including Marlon Brando, Al Pacino, James Caan, Richard Castellano, Robert Duvall, Sterling Hayden, John Marley, Richard Conte, and Diane Keaton. Of all the excellent characters and performances in the film, it is Brando's role that is perhaps the most memorable. He had hit a low point in his career prior to this film's release but gives the comeback performance of a lifetime as Don Corleone. He won the Oscar for this role, but in one of the strangest Oscar moments in history, sent the Native American Sacheen Littlefeather to refuse the award on his behalf, citing the unfair representation of Native Americans by the film industry as his reason for the boycott.
The film has been showered with awards, being nominated for a staggering 11 Academy Awards (with one getting revoked), and winning three: Best Picture, Best Actor (which, again, was awrded to Brando), and Best Adapted Screenplay. The film has also won five Golden Globes, for Best Screenplay, Best Director, Best Actor – Drama (Brando, again), Best Original Score, and Best Picture- Drama. The film is also number two on IMDB's top 250 films of all time list, as voted by users, and number three on Rotten Tomatoes' 100 best movies of all time list.
'But what do you think?' you ask, and I will humbly assume that you do want to know if you're reading this article. The film was very good, but it's not my favorite. It contained everything that a moviegoer could ask for: an intriguing and engaging plot, excellent character performances, and superb direction and script work. While many older films are unable to appeal to modern audiences due to their slower pace and toned-down vulgarity, The Godfather is the exception. Despite being released over 40 years ago, The Godfather still holds up as one of the few dated classics that could hold the attention of a modern audience. I did say that it is not my favorite, and that is just a personal preference. Like IMDB, I would definitely put The Shawshank Redemption ahead of this film in my rankings, and perhaps a few more.
This film is definitely deserving of its place among the greatest films of all time, and you better like it too, or you'll be sleeping with the fishes.
Leave a Comment
About the Contributor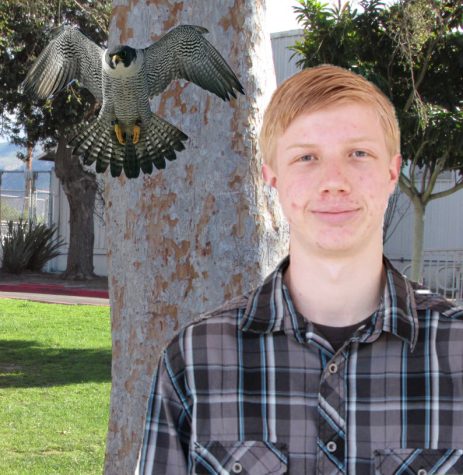 Sam Falconer, Retired Staff Writer (2014-2015)
Hi, I'm Sam Falconer. I'm a senior this year, so, yeah. Anyway, I am a film connoisseur and an avid reader and writer. I am also a lover of all things...