Li's Metro Masterpiece
Senior Alexander Li won the Regional Tunnel Boring Machine Art Contest hosted by the Los Angeles Metro System after submitting a colored pencil illustration of the city and its new underground trains.
Li received first place out of 200 pieces submitted from students in Los Angeles and Ventura county. His creation was chosen along with 10 others by a panel of judges, consisting of local Los Angeles community leaders, Regional Connector constructors, and representatives of both Los Angeles mayor Eric Garcetti's, among others. His piece currently adorns the side of the Regional Tunnel Boring Machine.
"Alexander's art that was placed on the Tunnel Boring Machine gives the work meaning and substance. It's a reminder that this project will bring LA county one step closer toward a better transportation future," said Matthew Marquez, community relations officer for the Metro Regional Connector Transit Project.
Through advertisement on social media and other platforms, the LA Metro System encouraged the public to vote online for their favorite work. The number of online votes reached over 2000. "We gave the public the opportunity to vote to get the larger community involved in this history-making process," Marquez said.
The contest was offered to students in grades K-12. Participants submitted an original painting, drawing, photo of a sculpture or diorama, or collage that portrays their ideal community, all art pieces measuring eight and a half inches by 11-inches and laid flat inside a large envelope for submission. The instructions encouraged artists to feature the new Regional Connector Transit Project. Artists submitted their work by June 1 of this year at 5 P.M., through mail or direct delivery to the Regional Connector Project Office on Temple Street in Los Angeles. Winners were announced in September.
"I wouldn't really say that [I am an artist]. I spent maybe an hour a day for a week and a half [on the artwork…]. Probably less than that," Li said. "I wasn't really planning to win. It was just really for the fun of it. I just drew Los Angeles the way I think it is. To me, it's a really pretty place."
The Regional Tunnel Boring Machine will dig tunnels connecting the Metro Gold Line Little Tokyo/Arts District Station to the 7th Street/Metro Center Station in downtown Los Angeles. The Regional Connector Transit Project provides connections to other rail lines in the city. The L.A. Metro has the second largest transit art collection in the country.
Li won a $300 Metro Transit Access Pass card, which can be used to pay for metro fares. Similarly, the second place winner, fourth grader Siena Morgan, won a $200 Metro card and the third place winner, 12th grader Marlah Adviento, received a $100 Metro card.
For a recent project in Ms. Anna Soberanis' Spanish 4 AP class, students gave presentations about something they do well. Li's topic was how to travel around Los Angeles using public transportation. "[Li's presentation for Spanish class] was very cool and very different. I have never had a student do that before, and I sort of wanted him to write down some good tips about what would be a good time to leave and how do you transfer," Soberanis said. "I appreciated his topic. He's the only one who did something like that."
"[My presentation] was about how to get around in places and how even though it seems like we're all driving, there are still ways to get around without driving," said Li. "When I go to Los Angeles, I try to use [the public transportation] because number one, it's a pain driving there and number two, taking the train there only costs like 18 dollars or something [for] the entire day."
"I'm not surprised [that Li won the contest]. He's gifted in all subjects," said Mrs. Tawney Safran, social science teacher who had Li as a student in past years. "He's a thinker, he's a writer, he's an artist, he's a creator […] I'm very proud of him."
Leave a Comment
About the Writer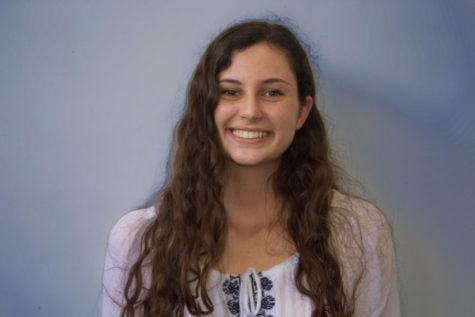 Rachael Ryan, Managing Editor
Hi! I'm Rachael and I am a senior. As the news editor, I am looking forward to reporting the exciting things our student body and staff will do this...