The (Naval) Base of Engineering
The STEM field is one of the most competitive areas of study, and for those interested in engineering, a recent program at the naval base may provide a push in the right direction.
This year, two Cam High seniors, Chun-Tzu Huang and Thoman Huebner, took advantage of one such opportunity: a pre-engineering program organized by Oxnard Union High School District and Port Hueneme Division Naval Surface Naval Warfare Center.
The program, started in 1998, is annually offered to juniors and seniors proficient in math and science and is geared toward individuals who express an interest in engineering. Selected students attended the 11-week seminar from 3:30 p.m. to 5:30 p.m. every Tuesday at Port Hueneme Naval Base. "The exercise was designed to help the high school students develop engineering and presentation skills," said Mrs. Lillian Rodriguez, Naval Special Warfare Command (NSWC) Port Hueneme electrical engineer, in an article from America's Navy website.
The program included seminars on systems, computer, ocean, missile, and environmental engineering, along with modeling and simulation, vertical launching systems, radar systems, directed energy, and underway replenishment, according to an introductory sheet attached to the application. These forms of engineering were applied to hands-on projects throughout the program. "I like how it's hands-on," Huebner said. "We did environmental engineering, so we made water filters out of different substances. And then we tested it to see whose water filter worked the best."
Different instructors taught each week, and the participants earned two-and-a-half elective credits, along with the knowledge and experience of various types of engineering. "There [was] some visual learning and there was some hands-on learning," said Huang. "We [also] had a breadboard [an arrangement base used for the prototyping of electronics] and tried to connect the wires."
Of the 10 spots available for high schools to fill, all seven schools in the OUHSD submitted applicants, along with a few schools from other districts.
The counselor in charge of the application process at each school chose the best applicants to send to the district office for the final decision. "I know this past semester we had over 20 applicants, and they accepted two of ours plus an alternate [and did the same for the other schools]," said Mrs. Marisa Stuteville, Cam High counselor. "It's just a competitive program, and there's only so many seats available."
The program was available for anyone who wanted to apply and was advertised in morning announcements.
Huebner and Huang were accepted into the pre-engineering program out of twenty applicants from Cam High. "What we do is we look at the students motivation, GPA, and what kind of classes they've taken," Stuteville said. "We look at their whole application and make a determining factor based on all that."
Huebner's aspirations to become an engineer sparked his interest in the program. "I decided to enroll because I want to go into aeronautical engineering, so I thought it'd be cool to [experience] all the different types of engineering. And I am also interested in the military, and [this program] is run by the Navy," Huebner said.
Huang, however, decided to apply in order to explore a new field of interest. "I've actually never touched upon engineering before, so this was an opportunity for me to see if my interest applies to this program," she said.
The last session of the program ended on Dec. 6. Representatives from the program and the school district, as well as families of participants, attended a ceremony to recognize the students with Certificate of Achievement on the following Tuesday, Dec. 13, and concluded the program .
*Chun-Tzu Huang is also the Stinger Features Editor.
Leave a Comment
About the Writer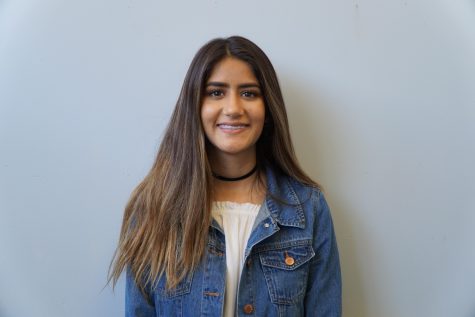 Aimee Barrera, Retired Social Media Editor (2016-2017)
Hey yo, it's Aimee. I'm a Senior. Second year stinger staff writer and social media editor. I still keep up with the Kardashians. I like art, sports, and...