Cam High Football Ends Losing Streak at Homecoming Game
[slideshow_deploy id='59950′]
Cam High's varsity football team cruised to a 42-10 blowout win versus the visiting Simi Valley Pioneers during the homecoming game on Friday, October 7.
Coming off a bye week, the Scorpions entered the game with a 1-4 record and looked to end their four-game losing streak. The Pioneers entered with a 3-3 record following a win versus Channel Islands last week.
"Coming off the bye week and a 1-4 start, we felt like we needed to win this week. We're at the halfway point of our season now, and it's nice to get a win to put us back on track," said senior offensive lineman Andrew Brown.
Cam High deferred the kick-off to get the ball first. Senior quarterback Jonathan Hugo started the game for the Scorpions, and within two minutes he completed a pass to senior wide receiver Jonah Cottrell for the first touchdown of the game. Simi Valley punted the ball away on their first possession, and the Scorpions quickly scored again as Hugo threw a 32-yard touchdown pass to Cottrell, putting Cam High up 14-0. On the next drive, Simi Valley's quarterback threw a shovel pass that was picked off and returned for another touchdown by freshman linebacker Brayden Winchester.
Five minutes into the game, the Scorpions were already up by three touchdowns. The Pioneers went three-and-out and the ball returned to Cam High again. Senior running back Aaron Lamb maneuvered through the defense and scored an 8-yard rushing touchdown to put the Scorpions up 28-0. Simi Valley failed to score any points as the first quarter ended.
After back-to-back punts to start the second quarter, Cam High turned the ball over on fourth down after failing to confuse Simi Valley on a trick play. With strategic field position, Simi Valley drove down the field and kicked a field goal to finally put points on the scoreboard. As halftime loomed closer, Cam High bludgeoned the Simi Valley defense once again with a 70-yard rushing touchdown by Lamb. Cam High led 35-3 at halftime.
During the halftime Homecoming festivities, band, the cheerleaders, and the songleaders  performed before the Homecoming princes and princesses were paraded around the track in sports cars, all lent by Cam High families for the event. Cottrell and fellow senior Nikki Puga were named the Homecoming king and queen. Afterwards, a fireworks show was put on for the attendees.
After an eventful first half, the game slowed down for the second half. After six minutes of scoreless action, Cam High extended their lead when Lamb ran five yards to the end zone for his third rushing touchdown of the game.
Early in the fourth quarter, Simi Valley scored their first and only touchdown on a pass thrown by their running back. With no more points scored, the game and Cam High's four game slump ended. The win improved Cam High's record to 2-4 with only four more regular season games left on the schedule.
"We all played together and played well," said senior safety Josh Sexton. "We played better than most nights. Everybody did their jobs and we all did what we are suppose to do."
The Scorpions will host the Moorpark Musketeers (5-1) next week for their last non-league game on October 14 before playing in their first league match-up at Oaks Christian (5-2) on October 21.
"Our team has working hard each week and has kept improving each week. Next game against Moorpark, we have to play very well to match up with their very good team. We have to prevent big plays on defense and create turnovers," said head coach Jack Willard.
Leave a Comment
About the Writer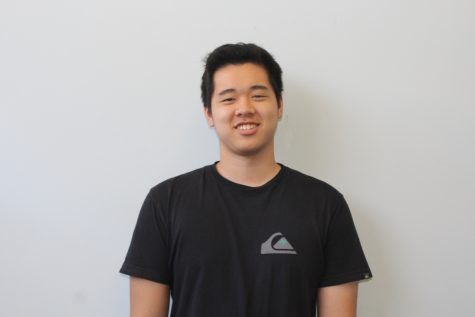 Tony Thai, Sports Editor
Hello. My name is Tony Thai. I am a senior here at Cam High and this is my second year writing for the Stinger. On most days, I like to run away from my...