Students Tell Their Story
Every year, kindergarten through 12th grade students from around the nation submit original works of art, film, dance choreography, literature, and photography to the national Reflections Contest.
The project provides a way for students to utilize artistic talent for a specific purpose while answering a specific question. Winners on the school level move on to the council level for selection for the district and regional levels respectively, and then to the national level to be considered for a national Reflections award.
This contest is available to Cam High students annually, and this year's theme is "What Is Your Story?"
"I definitely think that this year's theme is unique because each and every person has a different background," said junior Jacqueline Le, who entered the contest this year in the poetry category. "I entered reflections because I felt that it was a great way for me to express in words my jumbled feelings in this confusing phase of my life. I've always had a tough time linking my thoughts to pen and paper so I decided to push myself to try and do something outside of my comfort zone."
Participation in Reflections from Cam High has been sparse for the past few years, according to Kim Dawson, Parent Teacher Student Association (PTSA) President. However, with new channels of communication including through staff, announcements, and Cam High Connect, participation increased as of this year. "Since we have started to engage administration and teachers in the process, we have found that the participation is growing," said Dawson. Fourteen total students participated from Cam High.
According to Mrs. Michelle Loomis, member of Cam High PTSA and head of the Reflections committee, participants in the Camarillo area have been successful in past years. "There have been a few [Cam High] students that have moved on to the State Level. [There also have been] students from Camarillo elementary and middle schools that have moved on to the National Level."
The contest is also an opportunity for Cam High students to garner scholarship money. Students are selected through a judging process organized by the PTSA. Depending on how far students advance, they can receive medallions, up to $800 in scholarship money, and an expenses-paid trip to the National PTA Convention, and recognition through certificates. Their pieces may also be displayed at the Reflections Gallery which travels throughout the country.
"Besides looking good on your college applications or even a job resume, [the competition] gives you the ability to be creative and then be involved in the process at each level. If you have a passion for any of the categories, there is no reason you should not submit your original work," Dawson said in an email interview. "You have absolutely nothing to lose. It does not cost you any money, and you never know what amazing things can happen!"
Fourteen Cam High students who competed in have been selected to have their work featured in the Camarillo Council Showcase.  The Camarillo Council Showcase took place on Tuesday, November 15th in the La Mariposa Multipurpose Room at 5:30 PM.
Nine Cam High students moved onto the Council Level. Of those, seniors Daniel Romo, Haelley Hogan, and Mattea Pulido, and juniors Samantha Loomis and Dokyung Lim have been selected to move onto the District Level. Winners will be announced in January.
Update 1/24/17:
Mattea Pulido and Dokyung Lim were chosen to be honored at the 12th District Reflections Showcase on Jan. 9.
Leave a Comment
About the Writer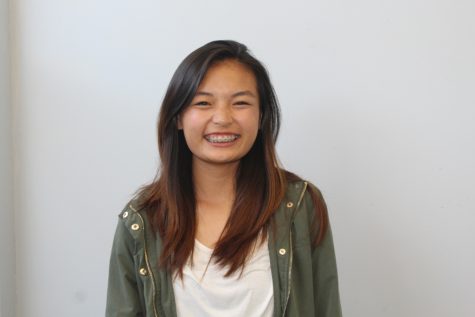 Cecilia Bach-Nguyen, Staff Writer
Heellooo! My name is Cecilia, but you can call me Cece. I'm a junior here at Cam High who loves eating (you could call me a foodie), as well as traveling...