New Cafeteria Food Gets a Thumbs up From Students
The cafeteria menu has once again been redesigned, with even more changes implemented this school year than last year. For the most part, Cam High students have been pleasantly surprised by the school's revamped cafeteria food.
Last year's menu was reevaluated after the OUHSD terminated its contract with its previous food service contractor, Sodexo America, in an attempt to improve the quality and freshness of school lunches. This year, due to even tighter reins on nutrition regulations within OUHSD, additional health changes have been made to Cam High's normal menu and a greater variety of lunches were added.
Some notable changes include the redesigning of the open salad bar in order to incorporate more options, and the cafeteria's implementation of "Meatless Fridays" to cater to students with dietary restrictions. The updated menu also includes soup, a new item that has not been offered at Cam High in recent years.
Ms. Hollie Jetton, Cam High's Cafeteria Manager, explained how the nutrition regulations get more strict every year and credits First Lady Michelle Obama's health initiatives. "With the elections it will be interesting to see if [presidential candidates] will keep up [with healthy lunches in schools]," she said.
Students seem to enjoy the new health-conscious food regimen, as there are noticeably longer lunch lines in the quad this year. "[The] salads are consistently good, fresh ingredients, organic, healthier, and filling," said junior Keenan MacNeill, a regular in the lunch and breakfast lines since his freshman year. "I think it's really good. I like the new salad bar, and introduction of peanut butter and jelly sandwiches."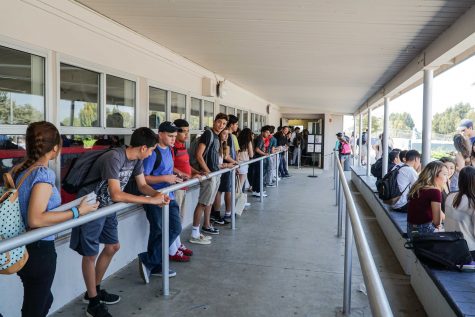 However, some students were indifferent to the change. Junior Eldrish Ramos stated that he was already content with last year's food, and was not bothered by the new health changes. "It is kind of like hospital food,"he said. "There's nothing good or bad about it."
Sophomore Jaclyn Kim, who had started to purchase lunch less frequently last year because she perceived as it being non-nutritious, endorses the change and is once again buying the school meals. "The food selection is healthier," she said. "[They are] putting more thought into it, at least it's more nutritious."
Along with the new food options, fruits are still offered as a healthy choice in the cafeteria. According to Jetton, students have to take fruit if buying breakfast or lunch, as a way of making sure meals are balanced.
Cam High has also made changes in an attempt to make the lines more efficient by creating a separate line for students only purchasing salads. "I like that there are two lines, one for salad and one for regular [lunch]," said MacNeill.
However some students believe the organization of the lunch lines is still confusing. "The lines are a little more chaotic then last year," said Ramos. "I don't think people know the difference between the regular food line and the line for salad."
Jetton said that the cafeteria will continue to improve the menu and keep things exciting for students. "You can't get away from the classics, but the cafeteria staff are introducing new items every week onto the menus and putting a greater focus on a 'build-your-own' aspect,"she said. "This will allow students to customize baked potatoes, nachos, and even make-your-own sandwiches using items from the salad bar."
View Comments (4)
About the Contributor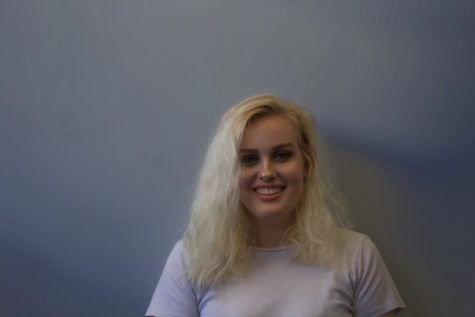 Chloe Schicker, Editor in Chief
Hi, I'm Chloe this year's Editor in Chief of the Stinger! I'm so excited to be apart of our school's newspaper this year and I hope you enjoy our site!