Off the Court and Onto the Beach
[slideshow_deploy id='59482′]
There are 13 sports teams available at Cam High, but beach volleyball is not among them.
Instead, it is a recreational club sport that 24 members of the Cam High boy's volleyball team participate in while they wait for the spring indoor season to begin.
The club, which is now a part of the IBVL (Interscholastic Beach Volleyball league), was formed at Cam High about five years ago by former volleyball coach Mr. Mark Cooper, who was already a life long beach volleyball player before the club was formed, and felt that the boys indoor volleyball team could benefit from an off-season program.
When Cooper's son graduated, Mr. Paul Tsuji, the assistant coach at the time, became the new head coach for boy's beach volleyball. He felt it made sense for him to takeover the job the summer before his son joined the program.
A majority of the members joined the club to play with friends and improve their volleyball skills. "A lot of friends did it. I was playing volleyball before and [my friends] said it'd be a great opportunity to improve my volleyball [skills], so I decided to go out and play beach [volleyball]," said senior Joe Maulhardt.
The varsity and junior varsity teams start practice the last week before the school year ends and continue practicing twice a week throughout the summer. For the past six weeks, the club has been playing at Ventura Harbor against schools including Foothill Tech, Oxnard, and Rio Mesa. "I think there's a pretty good chance they'll actually be champions of their division," said Paul about his hopes for the team this season.
The matches are held on Saturday mornings. The varsity and junior varsity teams both split up into three, ranked sub-teams: the ones, twos, and threes. "The teams are two-man teams that represent [Cam High]," said senior Tyler Tsuji, son of Coach Tsuji and fifth year beach volleyball player.
Typically, each match consists of two to three games played per sub-team. The final match ends around 3 p.m., and after tallying up the points from the sub-teams, the winning school is declared. "The league is on the weekends, and then if you win league you go to playoffs, and there's a couple of matches in the week," said senior John Paul Dillard, third year beach volleyball player.
The varsity team currently holds a record of 6-3, qualifying for quarterfinals, and the junior varsity team holds a score of 11-1, tying Redondo Union for third place.
Some members prefer beach volleyball while others are partial to the indoor sport.
"Beach all the way. Beach volleyball is just where it started," said Tyler. "That's the original version of volleyball. It started in Waikiki, it came over to Santa Monica and that's genesis of all of it. It's just a totally different game."
"I like indoor better," said junior Keenan MacNeill. "Personally, my skills as a libero, mainly passing and such, are a lot more interesting when it comes to indoor because that's all I do, and usually it's a different atmosphere. I like being a part of a bigger team, so indoor is more for me."
The club hopes to become a CIF (California Interscholastic Federation) sport at Cam High in the future. "We're trying to get it to be CIF. It will probably be in the next couple of years. Hopefully we'll get courts here [at Cam High]," said Tyler.
Because of Title IX of the Education Amendments of 1972, CIF cannot make boy's beach volleyball a CIF sport until they make it a sport for girls as well, due to regulations regarding requirements for balanced numbers of sports teams for both genders in high schools.
Leave a Comment
About the Contributor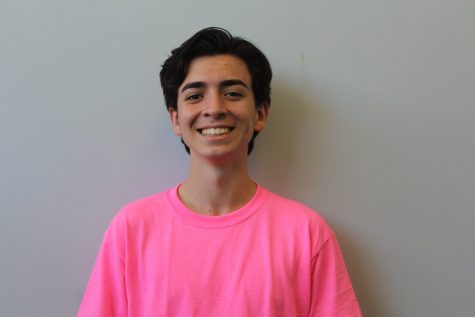 Nick Garcia, Photography Editor
As a first year Stinger staff writer, I am determined to report to the best of my abilities in order to inform the reader about current events and more....