Rushing into the New Year
Music and large crowds of students filled the quad and the stage last Friday as they perused the various clubs that Cam High has to offer. Tables were set up with posters, candy, and flyers, attempting to grab the attention of students, new and old, who wandered by.
Club Rush, an event to showcase Cam High's clubs, takes place at the beginning of every school year. The event allows them to gather and set up tables in the quad and advertise their message and purpose, in order to attract fellow students to get involved. Over 40 clubs participated in the event.
According to Helen Zhang, senior and co-president of T.E.E.N.S Club and St. Jude's, students are attracted to pleasing aesthetics and free food, props, and more.
Most clubs wanted to reach out to the lower classmen, to ensure their causes can continue through the next year. "Our goal today is just to get a whole lot of new members on our team," said senior Emily Ledesma, member of the American Cancer Society. "We want to get some of the younger crowd so that they can keep the club going after we've graduated."
"I feel like my boards for T.E.E.N.S Club and St. Jude's are predominately seniors, so its always important to try and get new members," said Zhang, who also prioritized recruiting underclassmen.
Zhang also said that she felt a lot of pressure leading up to the event. "It was hard, because I had a week of just four meetings, and sometimes we wouldn't finish what we were doing for one club so it would run into another club meeting and I would be trying to do two meetings simultaneously."
"[Club Rush] was cool," said freshman Brianna Valadez, who thought club rush was an exciting and informative experience. "There were a lot of different clubs to look at."
Leave a Comment
About the Writer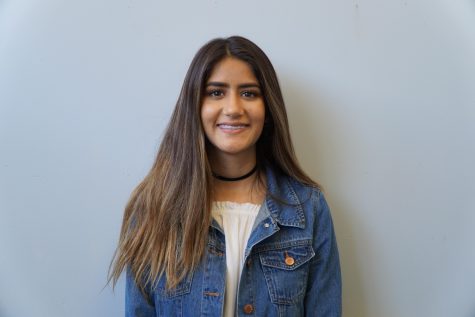 Aimee Barrera, Retired Social Media Editor (2016-2017)
Hey yo, it's Aimee. I'm a Senior. Second year stinger staff writer and social media editor. I still keep up with the Kardashians. I like art, sports, and...