New Classes, New Opportunities
Cam High introduced several new courses this year including Yoga, Advanced Placement Computer Science, Multimedia, IT Essentials, Agricultural Mechanics, and Criminal Justice, which was a one-semester class last year. These specialized classes allow students to discover more about the fields and subjects that interest them.
The district permits the amount of sections each school can have based off the student enrollment. Surplus sections available after meeting A-G requirements are spent on enriching new classes.
Courses are approved through the District Curriculum Committee before Cam High chooses a qualified teacher in the class's department to be the instructor.
"A lot of the recent new classes are due to the expansion of the academics and certificate programs," said Dr. Kim Stephenson, principal, who aims to expand Cam High's academic programs this year. "Some of the other classes come in order to meet student wants and needs."
Yoga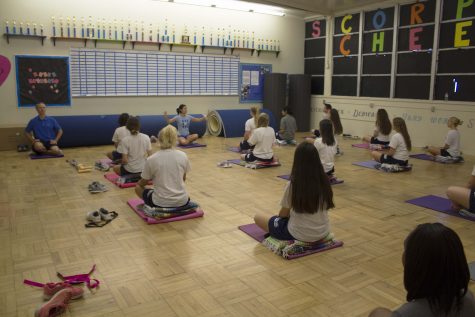 Cam High's new Yoga class meets physical education (PE) requirements for students who have already passed state physical fitness testing, and is open to sophomores, juniors, and seniors in room I-5 Monday through Wednesday during second period. On Thursdays and Fridays, yoga students participate in pacers and the fun run with the other PE classes.
After practicing yoga for five years, the teacher, Ms. Claudia Grafenstein, has observed the benefits and wishes to pass those benefits onto students. "As I got older, I realized I don't recover as quickly as I used to. When I put yoga into my life, I got increased flexibility and a lot of my aches and pains went away," she said. "Through increasing flexibility, you minimize injuries in the long run."
Grafenstein plans to teach her students simple breathing techniques and basic poses. "The first month we will be doing stretching exercises. After that we will start with basic poses like The Warrior and Child's Pose," said sophomore yoga student Alachia Hataburda.
Grafenstein hopes to encourage students to integrate yoga into their lives in order order to cope with the stresses of school.
"[In the yoga class, I hope] to gain knowledge of different positions to teach other people," Hataburda said.
AP Computer Science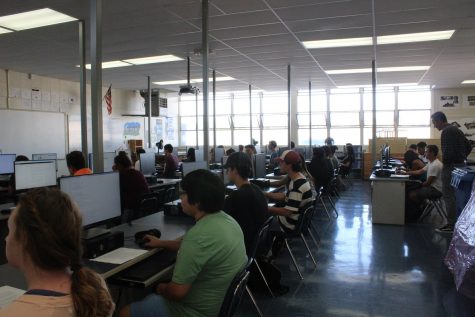 Mr. Jeff Jackson teaches both the AP Computer Science and Multimedia classes. AP computer science meets the A-G computer requirements and can offer college credit if students pass the AP exam. The class is available to sophomores, juniors, and seniors during zero period.
Jackson aims to expand upon students' computer literacy, problem solving, and teamwork-oriented skills. "There's always going to be jobs in computers and technology, so it's a current subject to train students in," he said.
According to Jackson, the class also requires logic and algebraic thinking, as students learn codes by defining variables and creating questions. Lately, students have been learning the functions of java, a computer language, and delving into concepts like "loops" and "if statements". "[Java] forces you to put weird punctuation in places you wouldn't expect," said junior Logan Porter.
"It's actually really interesting to see how the language and math works together. [Mr. Jackson] said it's like speaking French and doing Algebra at the same time," said Porter.
Inspired to take this course because of the prominent role computers play in today's world, Porter said "It's been challenging [and] overall a very awesome experience."
Jackson hopes that computer science will help students with their day-to-day interactions with computers. "You have a really powerful computer in your pocket. It's similar thinking to make your phone work better for you."
Multimedia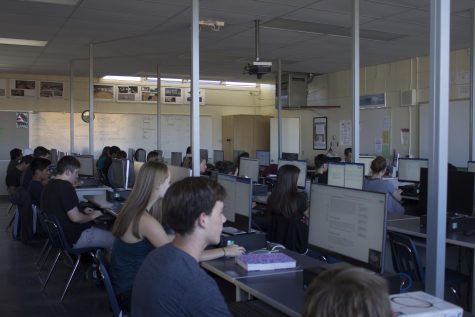 The Multimedia course meets the computer literacy requirements and is part of the business and technology academy. It is offered during periods three and four by Jackson.
The class began by teaching students basics of computer literacy, including Microsoft and technology skills. Throughout the year, Jackson plans to teaches students programming, Photoshop, as well as game and web design. "Currently, I'm teaching graphic design which I'm having fun with. I've always liked graphic design. I've always appreciated the artistic side," said Jackson.
For a recent project, each student created a poster for a band concert after selecting a band and venue that could potentially be provided to a client.
Jackson's teachings inspired Cesar Villegas, sophomore, to create a logo for his club, Students For Ethical Animal Treatment (SFEAT). "[From] a lot of the stuff Mr. Jackson showed me, I used to make the logo," Villegas said.
IT Essentials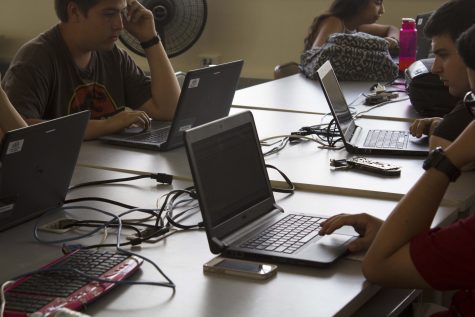 IT essentials is taught by Mr. David Lange and Mrs. Ida Lange, and is offered to students of all grade levels.
Students learn about computer hardware, troubleshooting, and programming and are eligible to take the Comp Tia+ certification exam after completing the course. Comp Tia+ identifies students who can troubleshoot networking and security problems. According to Mrs. Lange, this increases an individual's chance of being hired for a job where technology is relevent and utilized in day-to-day tasks.
The Langes teach at a collegiate level and students who pass the course receive credits from Oxnard College. This is a year long, dual-enrollment course that meets the G requirement for UC and CSU schools. Ida explained that a large technology company, Cisco, offered the district a curriculum to teach information technology at the high school level in order to introduce advanced technology to students prior to college.
Last year, the Langes taught Computer Engineering 1, the course that follows IT essentials. "Mr. and Mrs. Lange are really brilliant teachers for this class. We have discussions about the material that we are talking about. It's fun all the time," said freshman Ian Lattimer.
"Both of us are very passionate about bringing what happens in the real world to our high school campus. We feel having Cisco and the IT class is a great opportunity," said Ida.
Agricultural Mechanics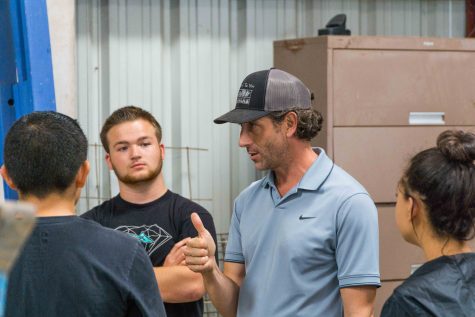 Agricultural mechanics, available to all students during sixth period, is a new course within the agriculture department. Cam High stipulated that the high school must have a viable agricultural program in order to exist, and this condition motivated Cam High to augment the program, according to Mr. John Avila, agricultural mechanics teacher.
Avila also teaches tractor driving and maintenance, as well as skills like welding. This class builds the equipment the agriculture department uses to raise animals and grow crops. "[I'm excited] to start welding," said Lucien Rodriguez, senior in agricultural mechanics. He hopes to pursue engineering as a career in the future, and hopes this class will help him so do.
"What excites me is that everybody here- no matter what, regardless of what career they go into- can use these skills for a lifetime," said Avila. "These are skills that pay the bills."
Criminal Justice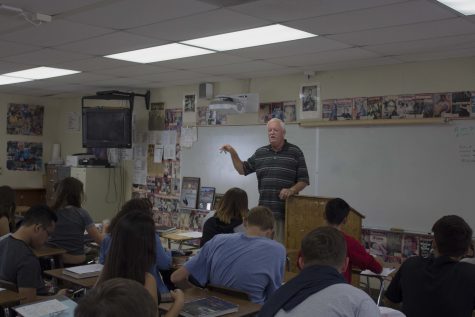 The Criminal Justice course, taught by Mr. William Dowden, is offered to juniors and seniors as a third period elective. Criminal Justice was initiated in the spring semester last school year. This course is geared toward students striving for careers in the criminal justice system, including police officers, probational officers, parole officers, district attorneys, public defenders, and judges.
Dowden utilizes a college textbook and organizes visits from public speakers who work in the field. "I like learning about politics, what's going on, and the government. We learn about older politics and how they compare to current politics," said junior Garrett Dawson.
During college and graduate school, Dowden took many courses related to criminal justice, including capital punishment, white collar crime, crimes without victims, criminal law, and constitutional law. "I'm looking forward to the class continuing second semester, because it's a lot of fun and a great learning experience," said Dowden.
---
Stephenson said, "We look forward to opening another academy, but it is on hold for now. It would be in the area of health, education, and lifelong development for students who might want to explore careers in care and education." History of the Mexican-American experience, AP computer science principles, and reading and math support classes are also being considered as future additions.
Leave a Comment
About the Contributor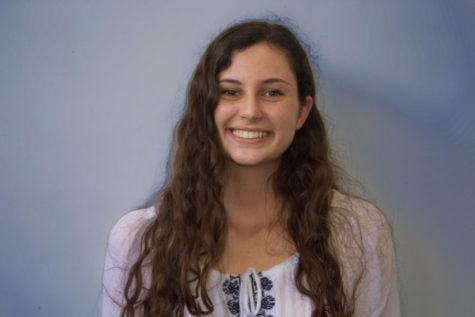 Rachael Ryan, Managing Editor
Hi! I'm Rachael and I am a senior. As the news editor, I am looking forward to reporting the exciting things our student body and staff will do this...