Scorps Spotlight 13: Matt Ullerick, High School Bodybuilder
While most high school students spend most of their free time worrying about the stresses of school, playing sports, or relaxing, junior Matt Ullerick spends his free time outside of school becoming a bodybuilder.
Ullerick said that he was inspired to become a bodybuilder because he was looking for a new challenge. Just prior to January of this year, he quickly gained interest when his cousin, who had hosted many bodybuilding shows, brought a bodybuilding event to his attention. Since then he has begun training, which extends into his normal day activities. "I've just been training really hard for like the past eight months," he said. "I [used to] work out just for fun. I've been into fitness for about a few years now, but I haven't taken it to the level that I took it to recently."
Ullerick competed in the National Physique Committee (NPC) West Coast competition in June and came home with two gold medals. "There's a lot of hard work behind [getting medals], so it means everything when you get it," he said.
His training begins with the food he eats, which consists of a strict meal schedule of protein every two and a half hours and eating five to six meals a day.  "I wouldn't say there is a best food [for bodybuilding], really. If you're trying to lose weight, you just need to make sure that you're taking in less calories than you're burning," he said. "You could always start out with the breakfast of champions: oatmeal and some egg whites. You can't really go wrong with that." This is a popular meal plan among bodybuilders.
Ullerick usually tries to find time to work out twice a day, sometimes early in the morning before school even starts.  He also cuts his carbohydrate intake in preparation for his shows. "If I go a day without training, the day isn't really complete," he said.
To Ullerick, bodybuilding is more of an art than a sport. "I really don't see bodybuilding as a sport where whoever has the most muscles wins. It's not about your size; it's about how refined you are. You can step on stage with someone twice your size. But [if you have] more cuts and definition than them, then you're going to take the win," he said.
Ullerick is optimistic about becoming a professional bodybuilder and is making strides to do so. "In body building, you can really decide your future, [unlike] other sports," he said. "In football and basketball, it's all chance. You either get noticed or you don't, but in body building you get to decide your own fate."
According to Ullerick, it's most beneficial to use the criticism of others to propel one's hard work. "In the beginning, a lot of people, when I brought this up to them and when I shared with them my idea of what I want to do, would just laugh at me and say, 'oh you know Matt, you're never going to do it. That's way out of your league, that's way out of your ballpark,'" said Ullerick. "I just want to be living, breathing proof for [young people] saying 'you can do this, don't listen.' You know, just follow your heart."
Leave a Comment
About the Writer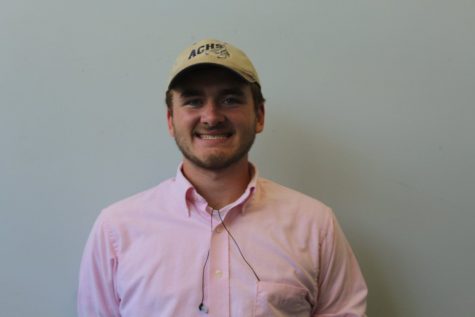 Jake Kling, Staff Writer
I am Jake Kling.  This is my first year reporting for the Stinger.  I enjoy sharing stories and showing the truth to whoever reads.  In my spare time,...