Taste and Tell #1: Cagami Ramen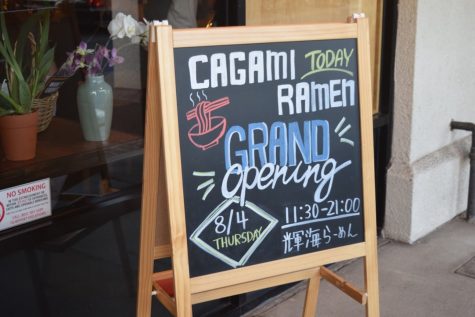 Preceding the opening of Cagami Ramen, one could only obtain authentic ramen by enduring a long drive through L.A. traffic or resorting to the second-rate dollar cup of noodles at the local supermarket. But now, Camarillo is home to its very own authentic ramen house. Located on Daily Dr., this quaint establishment gives off a traditional Asian feel with its hardwood floors, wall decor, and the Japanese phrases employees greet you with.
The Experience
After writing our names on a list, we perused through the menu, and waited for our name to be called. Because the restaurant is in a small building, unfortunately we had to wait for around 4o minutes upon arrival before being seated.
As soon as we were seated, we ordered our drinks: Calpico, an uncarbonated Japanese soft drink with a unique, fruity flavor. Though refreshing, the 24-ounce can was somewhat overpriced at three dollars.
After sipping on our drinks for a bit and listening to the ambient music they were playing, the waitress, who happened to speak Japanese like almost all of the workers there, came back to our table to take our orders: "Old School" Tonkotsu Ramen and Karamiso Ramen. 
                                                  The Food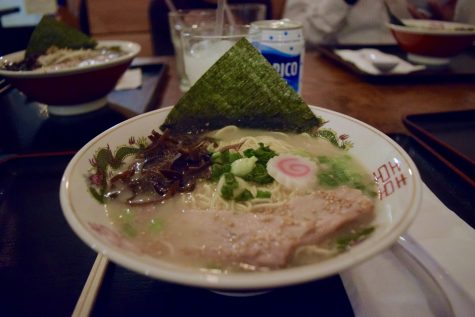 The "Old School" Tonkotsu Ramen consisted of a sizable amount of fresh ramen noodles swimming in Cagami's original soup stock, a savory pork broth made in the restaurant. On top, two slices of chashu (a fatty, Asian-style pork belly), a slice of briny fish cake, roasted seaweed, and nutty Japanese mushrooms, all topped off with slices of fresh green onion.
The Karamiso ramen gave off a red glow, similar to that of a sunset, as the pork broth was seasoned with spicy miso. Seaweed decorated the edge of the bowl while a piece of fish cake, green onions, and two savory pieces of pork belly danced around in the soup tantalizingly.
 We had heard people raving about these ramen bowls, both on Yelp and by word of mouth, so we dug in, eager to experience the Holy Land that all the others had already visited.
Kaylie: When I consumed my first bite of this raved-about-ramen I was surprised, shocked, even. It wasn't as spicy as I had anticipated, or spicy at all for that matter. The soup was rather very salty, so salty in fact that the flavor of the delicious-looking pork belly was completely masked. I had such high expectations for this restaurant, however, the quality of the ramen didn't really meet them. I do realize, however, that traditional ramen is supposed to be very salty, so I suppose, maybe this specific dish just isn't for me.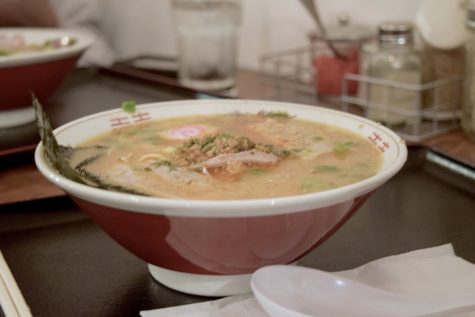 Cecilia: I honestly thought that my ramen was perfect. I had been to this ramen house twice before, and the first time I came, the pork was too salty, while the second time I came, the broth had been too salty. This time, however, the ramen was perfect. The meaty broth was balanced out with the mushrooms and green onion. My one qualm would be that they could've added more pork- the mere two slices provided were insufficiently  disproportionate to the amount of noodles and broth. Extra chashu was an option, however, add-ons were an extra dollar or two (a single egg is a pricey two dollars). Also, I personally prefer noodles more on the al dente side, but these ramen noodles were on the softer side.
We considered ordering dessert, which consisted of various flavors of mochi ice cream, however, at $3 a mochi we figured we'd be better off buying a pack from a supermarket at a cheaper price instead.
After finishing what we could of our ramen, we sat back with full stomachs and waved our waitress over to pay our bill.
Overview
Kaylie: Taking everything into consideration, I don't think I'll be back to visit this specific ramen shop. The size of the restaurant was very small, almost cramped, and the food was more on the expensive side at around $10 per bowl. In my opinion, the quality of the ramen wasn't worth the price. While the atmosphere made me feel comfortable, I could just as well visit my relatives and eat dinner at their house for no cost. A plus of this place, however, is that they got our food to us remotely fast. Though I had a less than satisfactory experience, I feel as though people who are accustomed to traditional salty ramen and have money to spare would enjoy Cagami Ramen more than I did.
Cecilia: Overall, this ramen house is definitely a place that I would return to. The overall ambiance and welcoming staff make the restaurant feel warm and homey, and the food is worth the return. Personally, my food was delicious and satisfying, except that, for a meat eater like me, the chashu to ramen noodle ratio was off. Although this could be easily remedied by paying extra for an add-on, I feel that the add-ons are overpriced. A whole two dollars extra for one egg, and an extra three and a half dollars for chashu, is a bit much. But, since ramen houses are a rarity in Camarillo, Cagami Ramen has little competition, and can charge as much as they'd like.
Currently, there is a scarcity of Japanese food in Camarillo, so though there may be differing qualities of the ramen, Cagami is definitely an option to consider when craving some. 
View Comments (3)
About the Contributors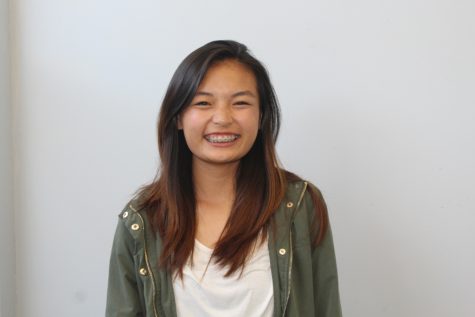 Cecilia Bach-Nguyen, Staff Writer
Heellooo! My name is Cecilia, but you can call me Cece. I'm a junior here at Cam High who loves eating (you could call me a foodie), as well as traveling...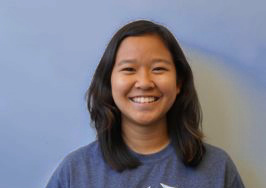 Kaylie Chen, Video Editor
Hello! My name is Kaylie Chen and I'm currently a senior at Cam High. I love reading, listening to music, and watching YouTube videos and shows on Netflix....