Scorps Spotlight 11: Mr. Kevin Buddhu
Creating a balance between family, friends, a job and travel is not easy, but through hard work, English teacher Mr. Kevin Buddhu is succeeding in managing the many aspects of his life.
As a child, Buddhu's family moved every two to three years due to his father's position as an officer in the Navy.  Eventually, Buddhu developed his own passion for travel. "In 1984 I took a job in the Virgin Islands right out of graduate school, and I've bicycle-traveled around the world and backpacked in the middle.  I've cycle-toured across the U.S. from Oregon to Florida.  I spent about a year in total cycle-touring in Europe; I traveled in the South Pacific, Mexico, Australia and New Zealand, just as much as I can," he  said.
Two major events, becoming a father and travelling for 15 months straight, changed Buddhu's approach to life and to teaching forever. "Having children and having traveled has lead me to believe that the potential for human growth is limitless. [Travelling taught me that] cultural, religious, and ethnic distinctions are not as divisive as people would like to think. I just think that traveling allows us to see that we are a human species and not just Americans," he said.  "It's very easy to lock into one perspective if you have but one. Having multiple perspectives and multiple experiences and a wide range of people [I've] met has made me able to see what takes place close to me in a new light."
Buddhu began his college career at Humboldt State University in California with a major in journalism after being an editor for his high school's newspaper, where he later switched to a major in English. "I found the writing to be a little bit stifling, so I became an English major and I immediately realized I wanted to read really good work instead of my professors' textbooks," he said.
After finishing 6 years of college, Buddhu applied for the Peace Corps and was offered a position in Africa, but turned it down when they required him to go back to school to learn French before leaving.  He then went back to school to get his teaching credential and after graduating in 1984, sent out 100 applications to schools around the world.  Within a week, he had heard back from a school in Tokyo and a school in the Virgin Islands.   He accepted the offer to the Virgin Islands and began teaching there the same year. Since then, Buddhu has taught for a year in Spain and has taken numerous courses at various colleges, including UC Santa Barbara, San Diego State, University of Oregon, University of Hawaii, and the Middlebury College of English, finally settling at Cam High in 1986.
Buddhu said that he is frustrated by the "lackadaisical teaching practices" he has observed throughout his life, and that he aspires to teach the way he would want his own children to be taught. "I think good teaching is taking risks and giving students a lot of rope to do what they want within a certain parameter with a certain set of skills and say 'Go,'" he said. In terms of teaching, he wishes to delve deeper into the usage of technology in his class in order to show his students the various platforms with which they can express themselves.  Because he as two sons in college, he plans on teaching for about 5 more years.
Buddhu's committed partner was diagnosed with cancer three years ago, which has halted their plans for the future. "The long term is hard to say, because living with incurable cancer is a non-stop battle," he said.  "I know what I would like to do, which is snap my fingers and have the disease go away and allow my partner to organize her life the way she wants to instead of the way shes been forced to."
Before the diagnosis, they had planned to move to Tuscany or Costa Rica and live near a college town, a beach, and rich culture. "I learned a long time ago that trying to predict a future is a fool's errand.  We want to, because we want to plan, we want to think about possibilities, but banking on consistent future thoughts is just a fun game to play," he said.
However, Buddhu remains open to everything life has to offer and will live the best life he can, despite the circumstances. "That's just the nature of the way things come our way, it's unpredictable.  For now, I'll just do the best job I can and love my kids, love my partner, and do my job."
View Comments (2)
About the Writer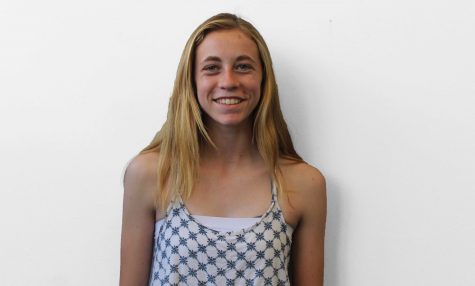 Maia Griffith, Co-Managing Editor
Senioritis is real people, but I promise to do my best to overcome and be productive for the good of our beautiful website.  I hope you enjoy our publication...