The Art of Flinching
[slideshow_deploy id='58606′]
Cam High students enrolled in the Illustration and Life Drawing art class hurled stuffed animals, Frisbees, pieces of cardboard, footballs, and plates at each other in the hopes of capturing authentic moments of surprise, energy, and spontaneity in the human figure on Tuesday, May 31.
Illustration and Life Drawing course focuses on people-based artwork. The class aims to produce pieces that "create art for a specific purpose, often relating back to text in some way," according to art teacher Mrs. Terry Donaldson.
Donaldson cites the works of contemporary New York artist Robert Longo as the prime inspiration for pieces, specifically the series of works titled "Men in the Cities."
"Essentially they were figures captured in awkward, energetic poses that were very spontaneous," said Donaldson.  "With this project, we were really bringing together our life drawing from first semester with some of our illustrative techniques from second semester."
Various types of professional cameras were used during this project, though most students opted to use their cell phones.  "A lot of people used their iPhones, but some people brought their fancy cameras," said junior Thomas Huebner.
After capturing the images, students will select and edit the best picture from their groups and transfer the chosen photograph onto a large canvas, some of which will be six-feet tall. The figure will then be traced through projection and outlining, and finally painted to create silhouettes.  However, "best" is not defined in the traditional sense.  "The best image is not the one that looks pretty, but the one that has the best positive and negative shapes, and the most dynamic action pose," said Donaldson.
In the artistic realm, negative space describes the areas surrounding the subject, and positive space is the subject itself.  A harmony between the two creates the most artistic, dynamic images, which are especially important during this project.
"Learning the concept of negative space for art is really important, because it'll add more shape to the piece," said freshman Kayla Martinson.
Senior Gunnar Santomauro enjoyed the project as well as the class. "I learned how to capture poses, and I will learn how to use different medias that I've never worked with, as well as the patience that comes with group projects," he said.
Martinson's favorite aspect of the project so far was posing for the pictures and her peers' reactions to the thrown objects.  "The original photos have your facial reactions, and it's hilarious when you see people's faces as they flinch or dodge the objects," she said. "That was the most fun part."
Donaldson's main goal was to reward her students' efforts and end the year in an exciting and interesting manner. "I thought it would be fun at the end of the year, and it's also nice to work with self portraiture in some way and to honor our seniors. I'm going to do my best to display these large pieces around campus," she said. "Really it's about fun, working together as a group, and stepping out of our comfort zones."
Leave a Comment
About the Writer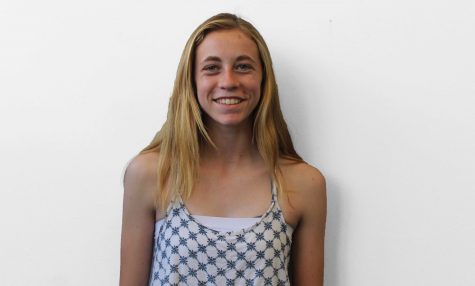 Maia Griffith, Co-Managing Editor
Senioritis is real people, but I promise to do my best to overcome and be productive for the good of our beautiful website.  I hope you enjoy our publication...