Softball reigns victorious over Atascadero
Cam High's varsity softball team was victorious after a 6-3 win versus the Atascadero Greyhounds on Thursday, May 19.
The Scorpions finished the Coastal Canyon League season with a 19-6-1 record, ranking them second in the league. The Greyhounds also finished second in their PAC-8 League with a 10-2 record. This game marks the first time the two teams have played against each other this season.
Cam High started off on defense against Atascadero, with the Greyhounds earning the first hit of the game. With two outs and two runners on base, senior Darby McGhee struck out the Atascadero batter and prevented the Greyhounds from earning the first point of the game. Freshman Bianca Gutierrez hit a single to right and then stole second base on the next at bat, followed by a double by junior Bridget Fleener that brought the Scorpions up 1-0.
In the second inning, Atascadero's offense proved to be no match for McGhee's pitching as she struck out three batters in a row, returning Cam High to bat. Cam High put two more runners on base but could not bring them in for another score.
After an uneventful third inning, things picked up at the top of the fourth. The Greyhounds managed to get the bases loaded with two outs. With the bases loaded, Mcghee walked two straight batters and gave up a single giving Atascadero a 1-3 lead. Mcghee stopped the bleeding by striking out the very next batter. Now down by two runs, Cam High had two hits but could not score against Astacadero's defense bringing an end to the long inning.
However, Cam High bounced back in the fifth inning. The Scorpions denied any no-hits to Atascadero. Proceeding with the inning, Fleener hit a double to put Cam High in scoring position. On the very next at bat, senior Sara Silveyra hit a two run homer to left with a full count. This tied things up with a score of 3-3, but Cam High was not finished. Both sophomore Lauren Cowans and freshman Delanee Upchurch helped bring in two more runs for Cam High to take the lead. The inning ended  5-3 .
The Scorpions continued their success into the sixth inning. Mcghee struck out two more batters to keep the Greyhounds from scoring. Then, Silveyra hit a double and scored off of junior Nautika Diaz's single to give Cam High their sixth and final run.
In the top of the seventh, Mcghee once again struck out two more batters to raise her strike out total to twelve. Cam High ended the game on a ground out to give the team their twentieth win of the season. "I think the girls did a great job of coming out and putting runs on the board," said head softball coach Nichole Pinedo. "Darby Mcghee did a great job in the circle, striking out twelve batters and only giving up four hits."
"I thought we performed well and really came together as a team," said Fleener. "We helped out our pitcher when she was struggling."
With the win, Cam High moved on to the second round and played at Oaks Christian on Tuesday, May 24h at 3:15 pm for the 2016 CIF Southern-Section Division 2 Softball Playoffs.
"I think in order for us to continue in the playoffs, we will need to play solid defense and have timely hitting and our key is always with Darby and how she pitches," said Pinedo.
Leave a Comment
About the Writer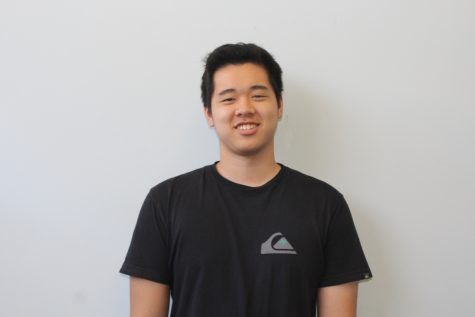 Tony Thai, Sports Editor
Hello. My name is Tony Thai. I am a senior here at Cam High and this is my second year writing for the Stinger. On most days, I like to run away from my...