Crafting a good time
In K-2, construction paper and Elmer's glue transform into mini works of art.
Juniors Ariana and Andrea Espinosa founded Cam High's craft club last year, with the help of advisor Mrs. Ida Lange, consumer and family department teacher.
"It's a stress-reliever, and it's just for fun. In elementary school, we would always make crafts, but now at school, we just have tests and stuff. Maybe making crafts is nostalgic for some people," said Ariana.
Every Thursday, the craft club meets in Lange's room at lunch and constructs crafts ranging from origami to sock puppets.
"We made little Easter Egg bunnies for Easter, using an egg with pipe cleaners for its ears. We drew the feet, and we had little fur balls for tails," said Leslie Ramos, junior. "I really loved it. It was really cute."
Materials used to make crafts come from extra supplies in Lange's preschool class as well as recycled objects like bottles and cans.
"It's a fun pastime. You learn how to use your hands. Some people like to read or go outside and do stuff, but this is more about at-home type of a hobby. You use your imagination, and it's just fun to see what you can create," said Ramos.
"When I think of clubs in general, I think of a place for people to come together in fellowship. The fellowship is based on one central idea," said Lange. "Even if you don't consider yourself artistic, so to speak, craft club can be something you are welcome to come and partake in. It's not like paintings, like Monet, or anything like that. It's just time for students to kind of de-stress and to do somethings with their hands, not so much with their brains."
For many, craft club is a space where students can forge bonds with friends both new and old.
"One time, we were playing a game called 'pin the carrot nose on the snow man.' That was just fun, because people would pin it in the wrong place," said Andrea. "Those memories stand out because everyone was together, everyone was having a good time."
"Now that life is so busy, school is not that much fun anymore. I think Craft Club sort of provides an escape from that, because you get to do crafts, and you get to do stuff for fun while at school," she said.
Though the year draws to an end, with less than a month left of school, the craft club goals remain largely unchanged.
"I hope people can just come and enjoy and get lost in a menial task. We forget that when we were back in kindergarten, we would do little art projects with our teachers and then take them home to our parents and put them on the fridge. I want students to remember a little bit of the sense of making a product to show," said Lange.
Leave a Comment
About the Writer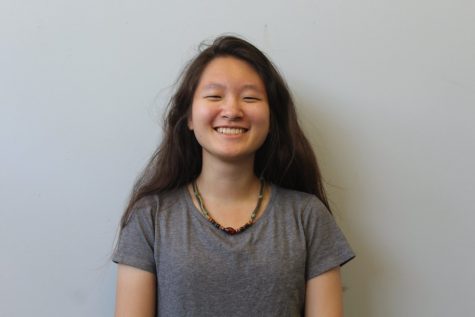 Chun-Tzu Huang, Features Editor
Hello everybody, I am Chun-Tzu Huang,  a senior, and it is my second year on the Stinger staff.  I am a lover of creative writing and a bit of a writing...