Fashion show highlights upcoming prom
Eleven pairs of seniors walked down the 'red carpet' on the quad at lunch last Friday, modelling dresses and tuxes intended to inspire others for this year's prom extravaganza.
Local businesses Red Carpet Formal Wear, Men's Warehouse, and David's Bridal sponsored the show and had the student models fitted with their apparel.
"The class of 2016 put on the fashion show to get people excited and thinking about prom," said Shivani Govil, senior and member of the planning committee. "People can get ideas of what they want to wear as they see tuxedos and dresses from the sponsors."
"It's exciting to see everyone get dressed up. There's a certain energy that is brought to the show that gets seniors excited for prom," said Madeline Mehrali, another member of the planning committee.
[slideshow_deploy id='57853′]
The prom committee strove to select models who came from a diverse background, said Sarah Celmeta, who also helped organize the show. "We did our best to incorporate different social groups with the school, such as football players, swimmers, mock trial participants, special ed students, scholar athletes, and many more different groups," she said.
Lauren Pasaraba was one of the models in the fashion show. "My current reaction and experience of the show is the complete contrast of what I've initially started out with. I didn't expect a lot of people to be in the show, and I honestly thought it was going to be a small production. However, there was a huge crowd and just being on the stage made everything exciting and significant," said Pasaraba. "The fashion show has really opened my eyes to the popular anticipation of prom."
Timothy Lee, Pasaraba's partner in the fashion show, said he enjoyed the experience. "It was really exciting to dress up and see how we would look all fancy. I was honored to be a part of it."
The following students modelled in the show (all seniors): Amanda DeWolfe and Tommy Thornton, Kiley Borchard and Brad Kooker, Kirsten LeDuc and Jedd Lebrilla, Sarah Celmeta and Colby Stevens, Maura Patterson and Barrett Romasko, Madison Luna and Elijah Alexander, Elise Umetsu and Dylan Specht, Gaia Oddera and Jake Tackett, Lauren Pasaraba and Timothy Lee, Sydney Arikawa and Brian Jeffers, and Cole Meyes and Addy Hughes.
Leave a Comment
About the Contributor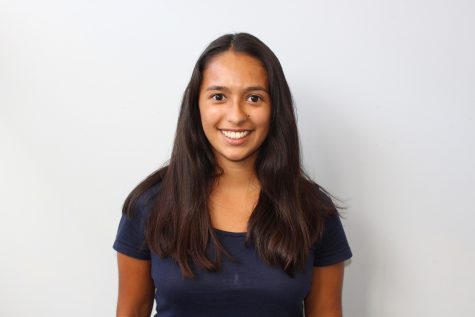 Cristina Farias, Staff Writer
Writing has become an outlet for me. A way to escape and let myself drift off into another world of senses imagery and. I love the outdoors, I especially...