The Dining Room [photos]
[slideshow_deploy id='57695′]
Nine seemingly unconnected sketches, thirty student cast members, and a piece of furniture– thus was the foundation of drama's spring production The Dining Room, directed by English teacher Mr. Richard Winterstein.
"There is no set plot. It's essentially just a bunch of sketches around a dining room table that don't intermingle with each other. It's sort of a disconnected play, but there's a unity as all the sketches around one piece of furniture," said Sarah Gay, cast member.
"[The Dining Room] is a play about different families going through different conflicts and highlighting variety in life," said Nolan Reaves, another cast member. "It highlights how people can be so different but so similar in that they were brought up in the same area. They can face similar challenges, but go about them differently."
The scenes varied from comedic to dramatic, with characters ranging from an obnoxious six-year-old to a potentially abused young woman.
Gay characterized the latter role, as an emotionally vulnerable daughter named Meg.
"Meg has confused, romantic relationships with three characters: her husband, a man, and a woman. She seeks help from her dad for housing because she doesn't want to live with her husband anymore," said Gay.
Her scene featured more mature topics, said Gay. "Meg raises conversation about father-daughter relationships. She looks to her father for emotional and financial support, and when she doesn't get it, it shows how important it is to have a good relationships with your parental figures in your life."
Reaves also pointed out the overarching theme of family in the play. He played the role of Russell, Meg's father.
"Russell is a very uptight, a little bit egotistical, and neglects his children," Reaves said. "He's a type of figure that you see in some families, and I think that's something Gurney wanted to touch on."
At first glance, all the sketches appear unrelated, said Reeves, but the characters from scene to scene may be intertwined. "There are hints for connections between the male characters, like between the grandfather in one scene and the father in another scene. They say similar things and have similar ideals, so it's possible. Maybe the grandfather is an older version of me, I'm not sure."
According to Reeves, the dining room itself meant more than just a set.
"One room can hold a lot of history, and it can bring a lot of people together, almost like a crossroads," he said. "I think that's maybe another one of the themes of the play."
The cast struggled a bit more than they did in previous productions, in part due to scheduling conflicts, technical difficulties, and prop malfunctions. On opening night, said Gay, a few of the glasses broke onstage.
"We overcame a lot of technical struggles, both prior and during the performance. There was a lot of recasting, a lot of difficulty with the set," said Gay. "But we emerged with a better understanding of how to handle problems in the theater. We learned how to take what happens and go with it. Afterall, the show must go on!"
Showings took place on the weekends of April 14-16 and 21-23.
Leave a Comment
About the Writer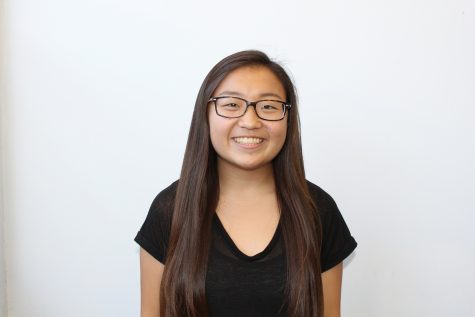 Amy Shim, Retired Editor-In-Chief (2015-2017)
Hello hello, the name is Amy, and this is my third year working for this beloved publication. Unsurprisingly, I love to read and write, but perhaps some...