Second language, second home
Cam High provides a variety of English courses for students, but one that remains relatively obscure is the ELD (English Language Development) program.
Established in 2001, the ELD class works specifically with non-native English speakers who may not be as comfortable with the language.
The program is part of a state-wide effort instated by the California Department of Education. "The overall goal of the program is to improve the English language skills of English Learner students, immigrant students, migrant students, and provide information to their parents about services available," according to the department website.
At Cam High, ELD is offered as two classes: first period, taught by Ms. Julie Shaw, and sixth period, taught by Mrs. Lucy Nakamoto. Most ELD students are enrolled in both classes. "ELD helps students by allowing them to practice reading, writing, speaking, and listening in English," said Nakamoto. "Everyday, they're talking to each other, to me, and practicing correct grammar and writing."
Freshman Bahareh Kazemzadeh Aghababa, moved to California from Iran. "When I was coming here, I was nervous and scared because I didn't speak English," said Aghababa. "But I'm better now because I can read the books, and I can do my homework."
ELD student and junior QiCong Qin is from China. "I can kind of relax in ELD compared to my other classes, because it's a lower level for English so it's less difficult than a normal class," he said.
Nakamoto said that ELD students have the freedom to leave the class once they feel they are well off enough to succeed in other classes. "Once students are proficient in the language and they can handle college prep English courses, they can exit the ELD class," said Nakamoto.
In California, statistics for the 2014-2015 school year showed that a total of 2,672,128 students speak a language other than English in their homes. Students who indicate that English is not their home language in school registration forms must take the Califnoria English Language Development Test (CELDT), as per state law. Those who do not pass the CELDT are required to participate in ELD.
By 2018, the CELDT will be replaced with the ELPAC (English Language Proficiency Assesment for California).
View Comments (1)
About the Contributor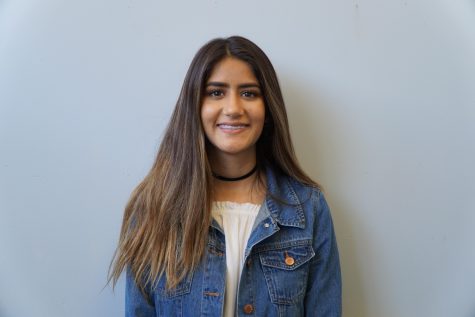 Aimee Barrera, Retired Social Media Editor (2016-2017)
Hey yo, it's Aimee. I'm a Senior. Second year stinger staff writer and social media editor. I still keep up with the Kardashians. I like art, sports, and...