Girls swim team smashes 2004 record
In a home meet against Viewpoint High School, varsity swimmers Cailey Renken, junior, and freshmen Jaime Wu, Sabrina Gonzales and Brittany Lam set a Cam High team record in the 200 medley relay with a time of 1:53.60. The time improved the former record set in 2004 by two seconds.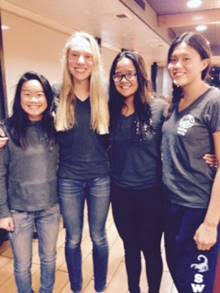 "This was done at a random non-league meet when the girls weren't tapered nor in their fast suits. It was pure muscle, adrenaline and love of the sport," said Mrs. Tawney Safran, girls varsity swim coach. "It is always exciting when ACHS swimmers break records that seem unbreakable."
The team members' names will be added to Cam High's record board in the aquatic center.  "It took some time to have it all sink in," said Wu. "The thought of having my name posted on the record board at the pool seemed impossible just a few months ago."
Gonzales said that, as a team, they did not expect such a victory to come so prematurely in the season. "We were all excited and felt proud of ourselves," she said.
Renken prepared for the race by practicing daily and centering her efforts on sprinting. A major advantage was having her teammates well-trained from their experiences in swim club, she said.
Wu considers the record her own greatest swimming accomplishment. "Though I did not necessarily prepare myself for this particular race, I treated it just as I would for any other race and did my very best for my team," she said. Outside the realm of high school sports, she and her teammates have also qualified for many championship meets.
Renken swims competitively outside of the school team. Recently, in a course meet in Austin, Texas, she ranked eighth in the 100 meter breaststroke on the first day. During the morning prelim, she was placed next to the American 100 meter breaststroke record holder and Olympic gold medalist Jessica Hardy. She ended up placing fifth with a time of 1:11.86, only off of the Olympic Trial time of 1:11.49 by a margin of 0.37 seconds.
Three of the four members of the relay just started high school this year and have been able to find a community through the swim team. Wu attributes wanting to join the team in the first place to her peers. "In middle school, I heard so many encouraging comments about the coaches and overall mood of high school swimming, and I did not want to miss out," she said.
Gonzales describes Cam High swim to be exciting and new. "High school swimming is very different from club swimming, so the new schedule and expectations are making my swimming style change for the better," she said.
"My teammates are a big part of my swimming career. Many people think of swim as an individual sport because of emphasis on individual races, but there is an equally important team element to swimming," said Renken.
"My teammates are so wonderful," said Gonzales. "They are there to cheer for me in any race I have, and vice versa. Whenever I feel insecure about my race, they always reassure me and tell me that I did great."
The members of the team also recognized many influential figures such as coaches and parents who mentored them and cheered them on from the sidelines. Renken said that Safran is a great support for her. "She always lets me know when I'm doing well and gives me recognition when I achieve goals. It feels great to be recognized by someone I'm so inspired by," she said.
With several league meets still left in the season, the relay team will continue to strive to do their best. "If you want to succeed in anything, you have to have the motivation," said Gonzales. "The moment you tell yourself you can't do it, it's over. You need to believe in yourself and your abilities."
Leave a Comment
About the Contributor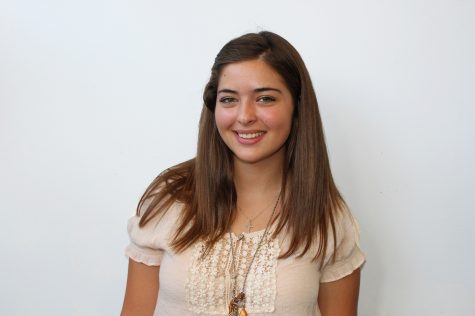 Hailey Fulcomer, Staff Writer
Hallo! I'm Hailey, an eighteen-year-old senior and staff writer for the Stinger this year. As the president of the ACHS German club, I love history and...