Scorps baseball crushes Oak Park
Cam High's varsity boys' baseball team defeated the Oak Park Eagles 7-1 in their first league game last Friday, March 18.
Last year, the Scorpions swept the series with Oak Park, winning all three games against the Eagles with scores of 18-1, 10-3, and 14-0. This year, Cam High entered the game with a record of 2-4 and a league record of 0-1. Oak Park entered with a 4-2 record before playing in their first league game against Cam High.
Cam High started off on defense in the first inning, with Oak Park unable to get a hit. The Scorps got their first chance to score after the teams switched, with senior Elijah Alexander singled to right field. Alexander was batted in by freshman Nick Schnopp's double, the first score of the game. Cam High tacked on one more run to give them a 2-0 lead heading into the second inning.
After a scoreless second inning, the game entered the third. Oak Park finally made it on the scoreboard after scoring one run, off of two hits. Cam High responded back with their own runs. Alexander led off in the bottom of the inning and hit a triple off the very first pitch. Senior Frankie Tostado was the next at-bat and batted in Alexander for his second run of the game. Cam High continued on with two more, giving the Scorpions four runs in five hits, ending the third inning with a score of score 6-1.
Cam High scored one more run during the bottom of the fifth inning off of two singles by sophomores Gabe Baldovino and Sam Silveyra, giving the Scorps their seventh and final run of the game. Cam High ended the game at the top of the seventh with a double play and a ground out to secure the Scorpions third win and first league victory of the year. Cam High finished the game with seven runs in eleven hits and gave up nine hits to Oak Park but managed to keep the Eagles to only one run.
"We played a very good game. Our hitting was good, and we had a lot of base runners. We also played very well on defense. There was also a lot of energy coming from our bench," said pitcher and senior Jonny Nishimori, who finished the game with three strikeouts in three innings.
"I thought we had a really good game. We had been coming off some tough losses, and we bounced back. It was a really good team effort overall," said head baseball coach and science teacher John Gonzalez. "We're always looking to try to be competitive and try to win a league championship. Hopefully we can make the playoffs and make a run in the playoffs."
The team played St. Bonaventure last Thursday and lost 6-1. The Scorps are scheduled to play Rio Mesa High School at Veteran's Field today.
Leave a Comment
About the Contributor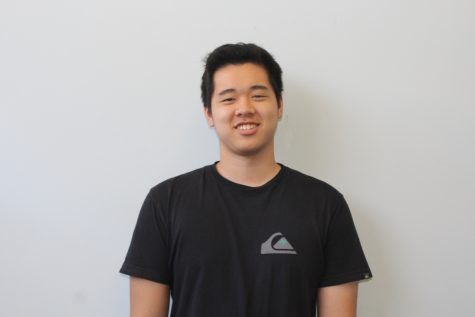 Tony Thai, Sports Editor
Hello. My name is Tony Thai. I am a senior here at Cam High and this is my second year writing for the Stinger. On most days, I like to run away from my...