Cam High artists showcase works
Sculptures, abstract paintings, wood creations, and pastel pieces adorned the pedestals, walls, and tables of Napa Hall at the Cal State Channel Islands campus in Camarillo.
Through the collaboration between Mrs. Bonnie Mills, art teacher, and the CSUCI faculty, over 100 works of student-created art were featured in the first ever Adolfo Camarillo Arts Expo. The expo began last Thursday evening and will continue to take place through Friday, March 25.
Students in woodshop programs and both advanced placement and college prep art featured their work in the show. While college prep students were each allowed to submit one abstract piece, most advanced placement students submitted one to four pieces. Selections included paintings, photography, sculptures, wood, graphite sketches, and paper mache.
"It's valuable to have a sense of belonging and personal pride and to be involved on a college campus," said Mills, who hopes to make the expo an annual event from this year forward.
"I think the art expo is a great opportunity for a lot of the artists to be seen by people who go to CSUCI and the teachers there," said Bella Husted, senior in studio art.
Many of the art students who had their pieces displayed felt honored to be able to take part in the expo. "I didn't really expect to be able to be a part of this event going into the class. It's really cool to be able to show my art to everyone else," said Connor Roberts, junior, who displayed a photograph taken while surfing in Ventura.
[slideshow_deploy id='57111′]
Other artists such as Marissa Gonzales, senior, viewed this as a step towards a future in art. "I want to be an art therapist, and major in fine arts and therapy," she said. "I think the expo is a stepping stone in my career."
"[The expo is] a good experience to have if you want to go into art because your art is up and out there and you have practice putting it in shows," said Dallas Blue, senior. Blue hopes to pursue a career in animation.
Paloma Tapia, junior, submitted a highly personal abstract piece depicting her vacation to Mexico two years ago. The piece was accompanied by a description of it's aspects.  "I wanted to make it to pay respect to my family and my culture," she said. "In the description, I mentioned a lot of my insecurities that I wouldn't normally point out, and I talked a lot about lessons that I've learned. I think it was important to include those because it's helped me grow as a person."
Some of the students delved into art at a young age. Junior Kathleen Dempsey said that she was appreciative to be a part of this event and show others the skills she developed over the years. "My mom put me in my first art class at age four and I got a grasp on it there," she said. Dempsey entered an abstract acrylic piece. "I feel proud that I was given the opportunity to show a painting that meant a lot to me and see how strangers reacted."
Leave a Comment
About the Contributor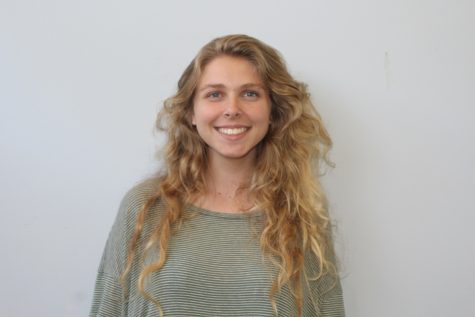 Annie Mascolo, Co-Managing Editor
Hello! My name is Annie and I am one of this year's co-managing editors. It is an honor to be a part of this news publication and I hope to help make it...