Getting medieval on their class
A medieval feast was held for senior English 4 classes in the drama department theater last week. During the potluck-style feast, students got to taste a variety of traditional medieval dishes prepared by their classmates in groups.
Over five hundred English 4 students have recently been reading literature from the medieval period, such as Beowulf, Sir Gawain and the Green Knight, and Canterbury Tales. "The feast [was] a way to bring the history of what we were reading [about] to life in a hands-on way," said Mrs. Catherine Robey, one of five English teachers who organized the event.
Robey said that the event was all about the culinary experience: tasting and learning about medieval food and the way medieval people ate it. "The food was made using historical recipes from books that I have," she said. "Everything that we have is actually medieval."
Francisco Villegas and Ronald Lu, seniors, made chicken pasties lombard for the event. "I learned a lot about how people in medieval times ate," said Villegas, "I want to thank all the teachers who helped make it possible."
Lu said that "the food was awesome and the feast was a great experience."
All Cam High college preparation English 4 teachers were involved in planning and organizing the feast, including Mr. Mark Storer, Mr. Richard Winterstein, Mrs. Cathrine Robey, and Mrs. April D'Andre. Storer's student teacher, Ms. Catherine Williams, was also involved.
Mr. Mark Storer, Stinger adviser and English 4 teacher, said that despite this being the second year the event took place, a lot of work went into preparation. "A lot of prep had to be done, as far as storing dishes, heating, and refrigerating [them]," he said. "Mrs. [Ida] Lange is our go-to for storing food, refrigerating food, and heating it in ovens." Lange is the adviser for the cooking class on campus.
"I was really happy," said Storer. "Everyone played along real well, they rose to expectations, and I was pleased overall."
Several participants said that the drama department's compact theater was completely full; with four classes worth of students. Tables provided by the drama department filled up within a matter of minutes and many students took their food to the adjoining classrooms of Winterstein and Storer nearby. "The feast [was] way too crowded," Lu said.
Many students were in costume in honor of Halloween, a large percentage of the involved students and staff following the medieval theme. Extra credit was offered for anyone sporting medieval attire for Storer's class. Mark Mascolo, senior, dressed in a homemade knight's armor crafted from cardboard, tape, some fabric, and an old belt. "My favorite thing about the feast was tasting all the delicious food," said Mascolo. "Everything tasted so good."
"I thought the feast was very successful," said Villegas. "I wish I could be here to do it again next year."
Leave a Comment
About the Contributor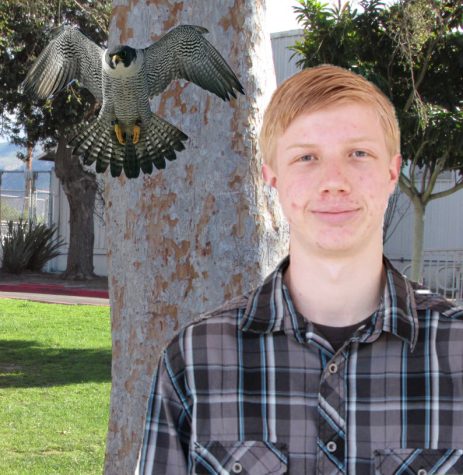 Sam Falconer, Retired Staff Writer (2014-2015)
Hi, I'm Sam Falconer. I'm a senior this year, so, yeah. Anyway, I am a film connoisseur and an avid reader and writer. I am also a lover of all things...