Adventure of a lifetime
[slideshow_deploy id='57065′]
Travelling is an invaluable way to learn about the past, said senior Jordan Duran.
He and a group of about 20 other students were given the opportunity to travel to Germany, the Czech Republic, Poland, and Hungary last year. "It was a whole different experience to be able to walk and feel the history," he said. "It opened me up to being more accepting and learning about everything."
This year, there are four trips available to Cam High students: two to Spain, one to Eastern Europe and one to Italy, France, and Spain. The trips abroad are organized by a company called Education First, or EF, and normally consist of about 20 to 30 students who are accompanied by one or two teachers and a few other chaperons.
Travels to Eastern Europe
Mr. Bryan Staples, history teacher, is leading the spring break trip to Eastern Europe, where they will visit Austria, Southern Germany, Liechtenstein, and Switzerland. "The trip goes by so quickly; it's going to fly by," he said. "To be able to have my students experience the history of all these places, I just get so energized."
Junior Luke James is one of several students accompanying Staples on this upcoming trip. "I saw that Mr. Staples was giving the opportunity, and he's one of my favorite teachers, so I felt like he would be a great person to go on a trip with," he said. "I'm really excited for it. It's a much different experience going with family members than going with friends, teachers, and other people who you can really enjoy the experience with."
Taylor Clocherty, junior, traveled to England, Ireland, and Wales with Staples last spring break, and will join him again this year. "I'm most looking forward to all the bonds that I will create with new friends and new people, because that's exactly what I did last year, and I'm grateful for it," she said.
Travels to Spain
Ms. Christina Stevenson, Spanish teacher, is leading one of the tours to Spain this summer, to Madrid, Cordoba, Seville, and Barcelona. Over the last 25 years, Stevenson has been on about eight EF trips and has been to over ten countries.
"I think traveling is one of the most important things people can do," said Stevenson. "It opens their eyes to different cultures and different customs."
The second trip to Spain and Portugal will be led by history teacher Mrs. Tawney Safran, and will commence about a week after graduation this summer. This will be the fifth EF trip she has participated in, and her fourth as a group leader.
"Travelling really reinforces my desire to learn. In every single way it has made me a better person," she said.
Travels to Western Europe
Mrs. Bonnie Mills, art teacher, is leading a trip to Northern Italy, France, and Spain over spring break.  She has been on eight previous trips, but her love for travel is still strong. "The world is an amazing place, and it's filled with so many different cultures and societies and history. I fully enjoy watching the students grow from it," she said.
Mills highly encourages students to experience the world for themselves.  "The experience is a purchase that nobody can take from you."
EF has been a trustworthy company for Mills for the entirety of her travels with them.  These tours are not a school-sponsored or school-organized event, they are privately planned and organized by EF and the group leader.  "I wouldn't travel with any other company," Mills said.
The price of travelling
On average, the cost of the trips are usually around $3,000 and include round-trip airfare, transportation, a full-time tour guide, hotel costs, two meals a day, and entrance fees to museums, parks, and other exhibits. This year's two trips to Spain are planned for this summer, while the Eastern Europe trip is scheduled for spring break of this year. Each trip is roughly ten days.
These trips require a considerable amount of preparation, both in terms of activities and group chemistry. Safran always tries to familiarize her travelers with each other before the trip begin.  "We have a lot of get-togethers to try and bring the positive vibes and energy," said Safran. "I try to seize as many opportunities as possible to get us together to see each other, and to feel comfortable going into the trip together."
Some teachers have tried to organize various fundraisers to help lower the trip's cost. However, Staples said that for the most part, the student must pay themselves. "This is not a school activity, so if anyone wants to go they can ask their grandmother, their neighbors, anyone they want, to try and raise money for themselves," he said.  "When a kid wants to go but they don't have the funds, I'm reminded of a student who didn't have the funds, so she got a job and worked at In-N-Out for a year and a half to pay for this upcoming trip. Where there's a will, there's a way."
Leave a Comment
About the Contributor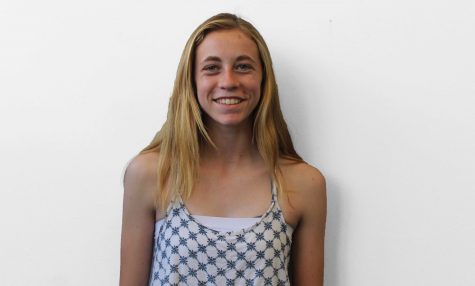 Maia Griffith, Co-Managing Editor
Senioritis is real people, but I promise to do my best to overcome and be productive for the good of our beautiful website.  I hope you enjoy our publication...