Threatening graffiti found in C-wing restroom
An on-campus threat written in graffiti was discovered in the C-wing girls bathroom on Monday of this week.
Principal Dr. Kim Stephenson sent out both an email and an 'all-call' phone call on Monday in order to inform Cam High parents of the situation. "I can assure you that we are taking all necessary precautions as the investigation proceeds," said Stephenson in the email.
Those steps included an increased police presence on campus Tuesday as several police cars parked in the front lot and police officers patrolled campus on foot. One officer was even seen atop a roof on campus. Both the Ventura County Sheriff's Department and the Oxnard Union High School District are currently assisting Cam High administration in order to locate the source of the threat.
Senior Danielle Holtorf witnessed the police cars driving onto campus. "I was sitting in my car in the lower parking lot yesterday morning, and there were several cop cars driving around," she said. "I also saw cops on campus during lunch."
Because the investigation is ongoing, Cam high administrators were unable to comment on the situation. This is the third threat received at Cam High this school year. The first two were on social media. This is the first done in graffiti.
The Stinger will continue to follow this story.
Leave a Comment
About the Contributor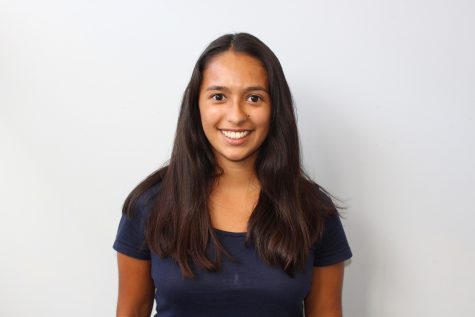 Cristina Farias, Staff Writer
Writing has become an outlet for me. A way to escape and let myself drift off into another world of senses imagery and. I love the outdoors, I especially...