Thirty students to visit Germany in fall
Thirty Cam High students have been accepted into GAPP (German American Partnership Program) for the fall of 2016. Each person will be partnered with a student from Germany and invite the German students into their homes in October. In the early summer of 2017, the German students will return the favor.
GAPP lasts over a year, starting in late February of 2016 and ending in the summer of 2017, when the American students visit Germany from anywhere between two to four weeks. "GAPP is a program that is set up by the governments of two countries to encourage learning exchanges in both countries," said junior Cambria Tolsma, one of the recently selected GAPP students. "We have about eight months until the German GAPP students come here."
While in the host country, students of both countries will visit several local sites. "We will see the Brandenburg gates, Munich, and hopefully Heidelberg. We are staying in a historical town, but it isn't very populated, so we'll take trips to bigger cities," said Evan Kramer, junior. He said he plans to take his German partner to "stereotypical" American places, particularly California's Mexican restaurants, In-N-Out, Disneyland, and other theme parks.
In the time between the German students' trip and the American students' trip, they will all have an opportunity to get to know each other through email and Skype. While not quite as intimate as getting to know each other in person, the time spent emailing and Skyping between the trips will give them the opportunity to tailor their home to their partners' needs before they come and to schedule trips that they know their partners will enjoy.
Students were selected to participate in the GAPP program through a lengthy process that included filling out stacks of paperwork, and, most importantly, an interview that gauges their ability to interact well with others and put effort into the program. "German [speaking] ability is not nearly as important as the willingness to make a connection with someone from a different country, to communicate with their family, and to participate in school and after school activities while in Germany," said German teacher Mrs. Heidi Kuehn, who is involved in the program and will be accompanying GAPP students to Germany. Kuehn will be accompanied on the trip by German two teacher Mr. Jochen Maier and Mr. Jon Mcfarland,  a teacher at Pacifica High School.
All the students were interviewed by a panel of six teachers: Kuehn, Mcfarland, Maier, German teacher Mrs. Anna Soberanis, Spanish teacher Mrs. Francesca Gurney, and English teacher and Stinger Adviser Mr. Mark Storer. This segment of the application process is what many students, including junior Erik Riis Vestergaard, found to be the most difficult. "Thinking on your feet to answer questions is always a bit of a challenge," he said.
About 30 students applied but only 20 received acceptance letters in a meeting with Kuehn last Monday. Ten students were put on a wait list and will be accepted in case any of the other 20 drop out. "Everyone is totally qualified to go; it's just some more so than others," said Tolsma.
The price for each of the students enrolled in the program is projected to be somewhere between $2500 and $3000. This is mainly composed of airfare and other transportation. "The nice thing is, there's no company making a profit, and there's no travel agent or travel agency, so that really helps us keep the cost low," said Kuehn. "Also, students stay with their host families in Germany who are responsible for providing them with food as well as lodging, so students don't have hotel or food costs."
"I am most excited to meet my exchange partner who I will be housing and to experience the culture, food, and music that they have there in Germany," said Kramer.
Tolsma said that the biggest reason she signed up for this trip is because of the experiences they will have. "I am most looking forward to getting out of this country and seeing the world," said Tolsma. "I want to go to Germany and other European countries and just see what it is like outside of what we have grown up knowing."
The whole process, including the application and the years of German class, was a small price to pay for the excursion according to Kramer. "It was all worth it. I am already excited for the trip," he said. "I can't wait."
Kuehn said she is most excited for her students to be able to open their minds to new experiences. "The most valuable part of the program, to me, is realizing that the world is a much smaller place than you had imagined. Some of my students have never traveled abroad. Some have never even been on an airplane," she said. "I want them to feel confident that they can travel, they can communicate in a language other than English, and they can find common ground with just about any other human being on the planet."
View Comments (2)
About the Contributor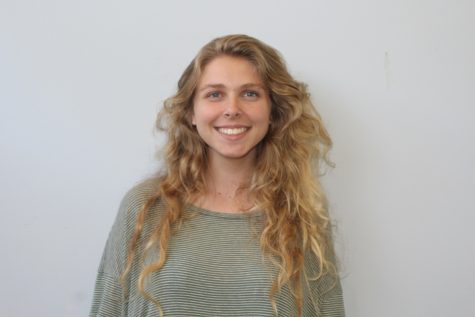 Annie Mascolo, Co-Managing Editor
Hello! My name is Annie and I am one of this year's co-managing editors. It is an honor to be a part of this news publication and I hope to help make it...