Cam High students optimistic about their awards
[slideshow_deploy id='56921′]
The Noontime Optimist Club of Camarillo held their 35th annual Youth Appreciation Banquet on Thursday, March 10.
Several Cam High students were honored at the Optimist Club's dinner for their leadership and community service. The awards given during the dinner included the Joel McCrea, Combined, Fine Arts, Most Improved, Community Service, Leadership, and Scholarship awards.
Shivani Govil, senior, was nominated by ASB adviser Ms. Lori Pristera due to her leadership at school. "For the last couple of years, I've been really involved with ASB and the cabinet for the class of 2016. I was Vice President of the class last year, but I was not elected for a position this year. Regardless, I have been playing a big part in many things, from planning Prom and Camchella to arranging senior activities," said Govil, who also participates in many other leadership positions outside of student government. "I'm also president of Girl Up, vice-president of CSF, on the divisional board of KIWINS, captain of geography bowl and knowledge bowl, [and] a member of the basketball team."
Cam High senior Danielle Chen was awarded the Combined Award, which combines leadership service and scholarship. Chen is the senior class representative for KIWINS, as well as the co-president of both CSF (California Scholarship Federation) and SLY Force (Saving Lives Youth Force), a club dedicated to spreading awareness of the effects of alcohol and drug abuse in the community. "As I moved up from being a regular club member to being on board, and then becoming president, leadership has helped me see things from different perspectives. It has also bolstered my communication and delegation skills," said Chen. "It also taught me the importance of having long term goals and being organized and dedicated; as all are important for not only the success of the club, but also for success in life."
Kayla Kotake, senior, was awarded the community service award for her participation at various CSF events, such as 'cards for the elderly', the Casa Pacifica food and wine festival, and the Nautica triathlon, as well as her work for the PTSA. "The service events have made me more aware of my privileges, given me opportunities to meet new people, and allowed me to make others happy," said Kotake. "Honestly, I think I'm a better person overall after my consistent service over the years because I've learned more about people and how to react in different situations."
Many award nominees felt positive when they initially received their invitations. "When I found out I won something, I was happy, but also humbled; because I like being active and serving people, but I never really knew that it was being noticed so much," said Kotake. "I knew the people at that dinner do a lot for the community, so to be put up with my peers that I respect was pretty cool. Overall I really enjoyed the awards night and I thought it was fun."
Brian Jeffers, senior, won the highest award of the event, the Joel McCrea award, which was presented by Joel McCrea's grandson, Wyatt McCrea. One person from each of the five schools in Camarillo (ACE Charter, Cam High, Rio Mesa, Frontier, Rancho Campana) were chosen based on outstanding scholarship, leadership and community service.
Jeffers is the the founder and president of the Cam High Medical Interest Group, four year defense attorney for Cam High Mock Trial, is a part of the State Council, is the Region 7 president for the California Association of Student Councils, and president of the Cam High Math Competition Team.
"I'm really glad that I received this honor," said Jeffers. "It truly was an honor to be recognized by Mr. McCrea and the city of Camarillo. It feels good to have the work that I have done pay off."
Leave a Comment
About the Contributor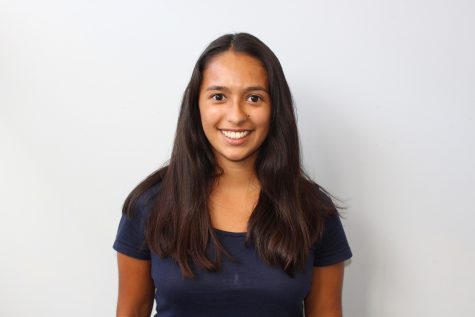 Cristina Farias, Staff Writer
Writing has become an outlet for me. A way to escape and let myself drift off into another world of senses imagery and. I love the outdoors, I especially...