Lawler's Legacy
Mrs. Christine Lawler, soccer coach of 30 years and player for 35, retired from coaching girl's varsity soccer at Cam High after the close of 2015-16 season with the knowledge that she has taught everything she knows. During her 20 years coaching at Cam High, Lawler and girl's soccer acquired seven league titles, 18 CIF playoff qualifications out of 20 seasons, four "Coach of the Year" awards, and a lasting impression on not only the girl's soccer program but also women's soccer in Ventura. She will continue to teach English at Cam High.
The main reason behind Lawler's retirement, according to her, boils down to her age. "I'm turning 55 in a few weeks  and that was always a golden number for me. Turning 55, and aching just by standing on the sidelines really prompted me into saying 'enough of that.' I know that I've taught as much as I know," she said. "When the players get to the point of knowing a little more beyond what I know, then I know it's time to hang up my whistle."
Lawler's success began in during her high school soccer career at Heritage High School in Littleton, Colorado. After winning the Colorado State Championship and being voted defensive MVP by her teammates, Lawler went on to play for Metropolitan State University in Denver on a partial soccer scholarship where she made history as part of the first group of women to get a soccer scholarship in the United States.
After visiting California in 1984 to watch the women's national team play in the Olympics, Lawler decided to make California her permanent home. Her first coaching job began in 1986 at Buena High School in Ventura, where she coached the varsity girl's team for three years, making playoffs each year and winning CIF Southern Section Championships in 1987. Lawler then moved on to coaching the varsity girl's team at Rio Mesa for five years, beginning in 1989. Cam High turned into her longest and last coaching job.
After coaching junior varsity for one year, Lawler coached varsity girl's soccer for 18 years until the end of the 2016 season. "I wouldn't have an education, I wouldn't have come out to California, I wouldn't have met the people in my life that are my family now, I would not have my Masters degree in coaching, I just would not be where I am without this sport. I can't imagine my life without soccer," Lawler said.
Jackie Fiacco, senior and co-captain of the varsity girl's team, reflected upon Lawler's effect on her as a player. "[Coach Lawler] has made me appreciate the different styles of coaching and different aspects of the game that I didn't focus on before," she said.
Lawler also started one of the first official women's soccer organizations in Ventura, called the Ventura Independent Soccer Association (VISA), which is still active today. She said that the next phase in her life will still revolve around soccer, albeit in different ways. Instead of coaching, she will focus more on managing her women's team in Santa Barbara, refereeing in the VISA league, and training high school referees.
"I want to enjoy watching more," she said. "I love watching [soccer] finally catch up to what I know it can be."
Lawler's numerous contributions to the girl's soccer program at Cam High and her passion for the game will live on in the legacy she has left. "Without the inner beauty of the game, I would not be satisfied with living," she said.
Leave a Comment
About the Contributor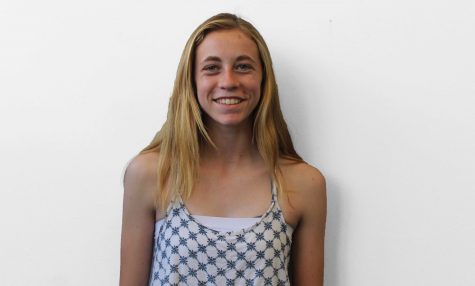 Maia Griffith, Co-Managing Editor
Senioritis is real people, but I promise to do my best to overcome and be productive for the good of our beautiful website.  I hope you enjoy our publication...