Scorps Spotlight 8: Raul Firpo
Most students see transiting the halls at Cam High as a perfunctory activity; go through the motions, get to your class, navigate the crowds. But not Raul Firpo. You've seen him–he's the guy with the guitar, happily strumming and occasionally singing to himself as he goes.
Firpo, a senior at Cam High, developed a passion for the musical arts when he was 16, living in New York. "I was introduced to [guitar] by a teacher."  Firpo, who had the opportunity to meet a few other music teachers, each of whom have different musical talents, said that the teachers are his inspiration when it comes to music.
He did not start with the acoustic guitar, even though it is his favorite instrument to play. He originally started with the bass guitar and from there, moved on to a multitude of other instruments. "I have a couple of guitars, a ukulele, a drum kit, and a bass."
Like many other teenagers, Firpo has gone through a series of musical phases. His taste has developed over the past years from rock to orchestra and everything in between. Currently, he is settled on indie rock because of the variety of melodies incorporated within the music. "Indie rock is like two colors; It's red and blue. It's two different forms of music made into one."
Other artists, not just music teachers, are big sources of inspiration to Firpo, who likes to innovate his musical style and his technique through practicing along with their songs. "When I listen to artists, they bring me new ways to play the guitar. Recently, I have been listening to Vance Joy so I have been trying to work on finger picking which is really hard, but it gets fun because you get to make new sounds."  Yet, he finds these new challenges to be fun and exciting.
For quite a few years now, Firpo has been working on his music by himself and teaching himself new songs. "Like anybody, when I teach myself, I try to copy the other person. I try to perfect myself when I feel I am doing something wrong [and] I try to fix it."
Firpo's guitar serves a much different purpose than just musical enjoyment – it helps him to communicate with the world around him. "In real life, my voice isn't real loud. I use my guitar to speak for me; It is my helping voice and without it, [it] is hard for me to speak to people."
As far as a career in music, Firpo isn't so sure whether or not he wants to be a musician and is open to other opportunities. "I want to search to do other things; Music isn't my only hobby. I am also into theater or the arts."
Firpo wants to encourage everyone to be an artist and use music to show others their own perspective. "When you are a musician, it mostly comes from the heart, and it is a way to express everything," he said.
View Comments (1)
About the Contributor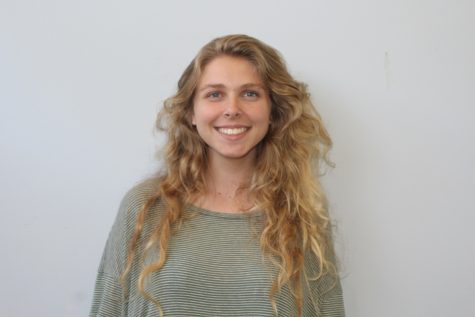 Annie Mascolo, Co-Managing Editor
Hello! My name is Annie and I am one of this year's co-managing editors. It is an honor to be a part of this news publication and I hope to help make it...