10 Minutes to Live
On behalf of Red Ribbon Week, former Camarillo Highway Patrol officer Mr. Tony Pedeferri spoke to Cam High students on Thursday about how he came to be paralyzed from the waist down due the actions of a drunk driver.
The accident occurred on December 19, 2007, while the then 37-year-old Pedeferri was on patrol in Ventura.
While Pedeferri was pulling over a sport utility vehicle on Highway 101, a pickup truck driven by a 21-year-old driver under the influence hit both Pedeferri and the driver of the SUV. Pedeferri was outside of his vehicle at the time.
The driver of the SUV was killed immediately, but the accident left Pedeferri with a broken neck, many broken bones, and collapsed lungs.
"The only thing I remember was the highway patrol office Christmas party the Saturday before the accident," he said. "I don't remember waking up in the hospital."
The driver of the vehicle that caused the crash was sentenced to 15 years in prison on two charges, one of which was gross vehicular manslaughter while intoxicated.
Pedeferri remained in the hospital for several months and said that it took time to adjust to life in a wheelchair.
"Anytime I go anywhere I have to think, 'Okay, where is the building? How am I going to get in it?' I'm always having to think of access and how to get around where everybody else doesn't have to think about that," said Pedeferri. "I gotta do ten steps and it takes time."
Pedeferri said that while it took time to learn how to move around in a wheelchair, he quickly learned how to adapt and use it effectively.
"I was in the hospital from December to July of '08 and I would say by that November or December I was pretty much independent. [It took me] almost a year from the accident."
Before the accident, Pedeferri was a triathlete and world-class competitor, but now only bikes with his arms and runs a handcycling business. "I want to continue racing my hand cycle and I want to try to grow my [handcycling] business where I make parts and the bikes."
The assembly concluded with a video documenting Pedeferri's life before, during, and after the accident.
"I live in the moment now because I never know when my health could get ruined or when I can't get around anymore. I'm definitely less self-centered and I'm always looking at the big picture for sure."
Leave a Comment
About the Contributor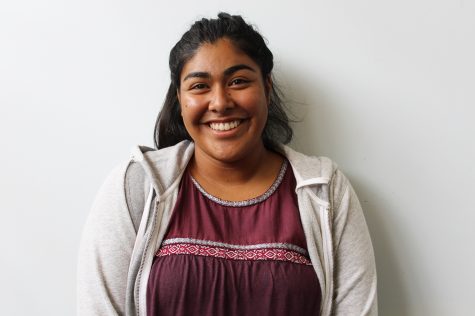 Serena Sotelo, Retired Photographer (2015-2016)
Hi I'm Serena! I'm a senior, 17 years old! I love all types of writing but I'm mainly into creative writing... that's why I take photographs for the Stinger(;...