Finally Making a Splash
Metal continues to rise and the dust is rolling along as the building of the pool carries on. Cam High's pool is on its way.
With 3.7 million dollars put into the creation of the pool, it is expected to be state-of-the-art and unlike other pools in the area. The pool will be 25 by 33 yards for a total surface area of 8,556 square feet. The entire build will be 10,000 square feet.
The pool will include LED lights, a scoreboard, pool lanes, and diving boards. There will be a bathhouse for both boys and girls that will include restrooms, lockers, equipment storage room, coach's office and a pool mechanical room. It will also include something not found at other schools nearby: the water will be ground level to the floor around it.
Mr. Rod Leard, senior project manager, makes sure that the workers do their jobs and makes sure nothing bad happens. Accidents haven't happened but it is still a problem to think about. Leard hopes it continues that way to making something great for the school. "It's been going smooth here at Camarillo. It's going on schedule and we have a good contractor."
Leard is not the only person who is happy about the new pool, though. Mr. Glenn Lipman, principal of Cam High, is pleased with how construction is progressing. As a new addition to the school, the pool is welcomed with open arms. "It's great to get your own pool because it's better than using other peoples' pools."
Another faculty member who is delightedly by the edition to the pool is Mr. Kevin Buddhu, the head coach of the boys swim team."I was told twenty-four years ago that the school would have a pool," said Buddhu. "It's been a long time coming, and I'm glad that this has finally come to pass."
The pool will be primarily used by the students of Cam High and Scorpion's water polo team. This project has been certified by CIF and has been approved by the district. Construction is expected to end in the spring of 2014.
Leave a Comment
About the Contributor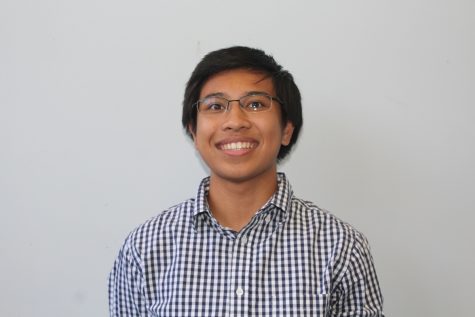 Gaberiel Delacruz, Staff Writer
Hello! My name is Gaberiel Delacruz and I have been apart of the Stinger for four years. I love interviewing people because it's one of the best parts...