Scorps Spotlight 3: Mr. Jochen Maier
German teacher Mr. Jochen Maier is enjoying his first year at Cam High, bringing with him a wealth of knowledge of the German language and culture.
"I have to say that the faculty, administration, and all my students have been friendly and nice towards me," said Maier. "I like teaching something that I feel qualified for, and it's working out pretty well."
The German education system is notably different from American high schools, according to Maier, a German native. "When I went to high school, it was from fifth to thirteenth grade. There were 100 students in each grade, four administrators, no sports, and no counselors."
Post secondary school, Maier decided his major with resolve. "Out of all the [jobs] that were available, I thought that [teaching] German would be the best," he said. "I really like it, and it was practical. I was able to put it to good use."
After high school, Maier attended the German university of Pädagogishce Hochsule Hidelberg to obtain his language degree. He began his teaching career in Germany and worked there until his to move to America, where he taught at the German-American School of San Francisco. Then, in 2002, Maier moved again, to Ventura.
Due to familial reasons, Maier was not able to teach part-time, but instead opted to become a substitute teacher for two years. When he decided to return to part-time teaching, Maier applied to teach at Cam High after hearing that they offered German language classes.
"I really love teaching; [however], it's the first year that I'm doing this kind of thing, the part-time teaching, so it's different," said Maier.
Students in Maier's class say that he is an active teacher who often walks around the class and makes sure that his students have the best experience possible while learning German."Personally, I think he's a really cool person and has a unique personality," Randall Thomas, sophomore, said. "He's a very good teacher and is very energetic when teaching."
Maier hopes that his class is fun and that the students enjoy themselves learning the language he loves. He also hopes that during this year, he can adapt smoothly to this new environment.
"There's so many other things that you have to learn when you're a new teacher," said Maier. "I feel like I still have a lot to learn […] It's like a new student [who's] still growing."
Leave a Comment
About the Contributor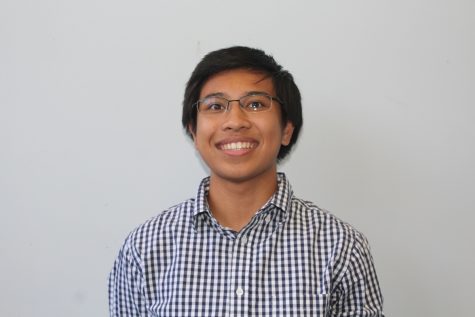 Gaberiel Delacruz, Staff Writer
Hello! My name is Gaberiel Delacruz and I have been apart of the Stinger for four years. I love interviewing people because it's one of the best parts...