An honor for Mrs. Klemann
Cam High principal Dr. Kim Stephenson nominated biology teacher Mrs. Shannon Klemann as one of ten finalists for the League of High Schools' annual teacher of the year award.
Klemann is being recognized by the league for her efforts implementing reforms within the school district, particularly within the science department, and promoting critical thinking in the classroom, rather than traditional factual memorization.
The ten finalists were invited to an honorary banquet on Nov. 19 in Los Angeles, where all Southern California finalists were awarded for their contribution in swapping old standards for next generation science techniques within their schools.
"It's less lecture, more activities and critical thinking. This is the new movement of next generation science standards," said Klemann. "Everything used to be more knowledge based, but these next generation science standards reflect what AP students have already been doing."
According to Stephenson, the number of AP Biology tests taken by Cam High students has risen by about 100 tests in five years, with almost 80% of Klemann's students passing with a three or above.
Klemann has also been working as a science coach with the district, leading professional development programs that help educate all teachers on the new techniques.
Stephenson said that she nominated Klemann because of her dedication to her job and her willingness to work beyond normal job responsibilities. "She has been engaging students with a rigorous curriculum using critical thinking, real world experience, communication, scientific tools, and collaboration for years in Life Sciences," she said.  "[Mrs. Klemann] is a leader out there. She's learning new techniques and sharing them [with other teachers]."
The ultimate goal of these reforms is to change the learning objective from memorizing facts to understanding concepts and putting them in action. "It's a very exciting time to be a science teacher, because we have more flexibility than ever to not have to know this, this, this, and this; but actually know how to think about data and to really think like a scientist," said Klemann.
Klemann's devotion to teaching has also been recognized by her students. "Not only is [Mrs. Klemann] kind, friendly and relatable to students, she knows how to make biology fun through her enterprising and creative teaching methods," said sophomore Srividya Maganti.
Several AP Biology veterans recall how constructive she was in helping students pass the rigorous course. "Mrs Klemann prepared us a lot for the AP test. Her study guides, lectures, and notes were awesome. Mrs. Klemann is just amazing as an overall person," said Brandon Fujii, junior.
At the banquet, each of the ten finalists delivered a speech about a teacher in their life who inspired them and influenced them, and changed how they teach in their own classroom. Though her speech was not the winning one, Klemann wrote hers about a teacher who is very close to her heart: her husband. "We have been married 20 years. I got a little teary eyed when I was talking, I didn't mean to," said Klemann.
Klemann said that she is extremely grateful to Stephenson for the nomination and the opportunity it offered. "I was a little surprised just because there are so many good educators on campus, and all of us are good at something," she said. "It was an honor to be nominated among such great teachers."
Leave a Comment
About the Contributor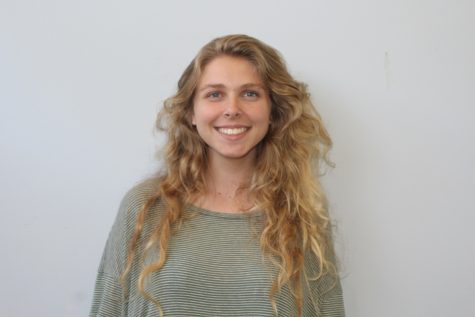 Annie Mascolo, Co-Managing Editor
Hello! My name is Annie and I am one of this year's co-managing editors. It is an honor to be a part of this news publication and I hope to help make it...