The high cost of education
As college tuition prices steadily increase, many Cam High seniors are beginning to explore job and scholarship opportunities in an attempt to soften the blow of the often-heavy price tag attached to higher education.
The total price of college normally consists of room (if one chooses to live on-campus), the cost of books, insurance (if offered), general tuition, and miscellaneous fees. According to the National Center for Education Statistics' 2012-2013 report on tuition (which includes room and board), an average of $15,022 was spent at public institutions, and $39,173 at private, nonprofit institutions.
Overall college tuition has experienced a constant increase in past years, with the growth rate at some private universities exceeding the 2015 national inflation rate.
Cam High's college and career center counselor, Mrs. Judith Guerrero-Isaac, has witnessed students take multiple different paths regarding college choice and payment. "I think [university choice] depends on financial need. The students who really can't afford to go straight to a university tend to go to Ventura College, Moorpark, etcetera," said Isaac. "A lot of them do it because of financial reasons- I think it just depends on the school."
Many Cam High students have opted to attend community colleges to complete their requisite classes in order to save money, and then transfer to a four year university after two years.
Cam High senior Samantha Tovar is set to graduate in 2016 and has chosen to attend community college. "Four year universities are way too expensive. You get the same classes [for] general education if you do them at community college," said Tovar. "[If] you then decide to transfer into a four year college, it is easier, because [universities] are more willing to accept you if you have already been in community college."
History teacher Mr. Matthew Doyle has witnessed the varying paths his former students have taken to continue their education, and how tuition rates have influenced them. "I believe that college tuition has risen to such high levels, because federal student loans have been made available to just about everyone. More students with money for college equals higher tuition," he said. "Colleges have raised tuition because they can. As long as most people can get a loan from the Federal Government, colleges can continue to raise tuition."
Doyle said that students will most likely opt for the more affordable option to compensate for the constantly rising tuition rates; however, stereotypes around two-year colleges have prevented many from doing so. "Many students will go to community college for financial reasons, but there is a stigma (created by our culture, community, students, and parents) that community college is second rate," said Doyle. "Many of my students say they're going to Moorpark [College] as if it was an admittance of educational defeat, and many students do not consider community college a viable economic option because of this."
Farhan Saleh, senior, has decided to attend a four year university as opposed to a community college. "I've taken many AP courses and I was told it pays off in college," said Saleh. "I just don't want to go to a less prestigious community college and not get recognition for my achievements."
Many students also aspire for graduate school after they complete their undergraduate degree, a choice which affects many students' plans. "I hope to get at least a master's degree from a university, but if I can, I will work for a PhD," said Saleh. "My aspirations will be a bit costly, but I'll find ways to work through any financial struggles with the help of my parents and family."
Isabella Husted is undecided as to where she wants to go, but knows her choice will take into account her financial situation. "I would be staying in state due to out of state cost being significantly higher than in-state, and paying for [tuition] through any scholarships that I would be eligible for, and by working part time," said Husted."I will attend whichever school costs less tuition, and is in the least expensive location. Scholarships and grants will only take you so far."
"[Some colleges] will offer financial aid depending on when you apply and if you get accepted. Definitely apply to scholarships even if you think you don't qualify, still apply, because a lot of them go unclaimed," said Isaac. "I see a lot of students working to pay for their tuition, through scholarships and working, it definitely depends on the family, I have seen a lot where the parents can't afford to help so [the students] definitely have to work to pay."
View Comments(1)
About the Contributor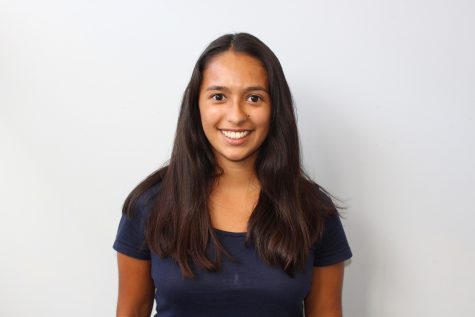 Cristina Farias, Staff Writer
Writing has become an outlet for me. A way to escape and let myself drift off into another world of senses imagery and. I love the outdoors, I especially...