Geo-Challenge
The Cam High Geo-Challenge team (formerly known as the "Geo-Bowl" team) competed  in a county-wide competition held at Oxnard College on Saturday, November 14.
Eight weeks ago, anyone interested in geography and willing to put their knowledge to the test was accepted into Cam High's team. From then on, the 24 members, ranging from freshman rookies to senior veterans, met two to three times a week after school to expand their knowledge in preparation for the competition.
On the test day, 22 of the 24 members arrived at the competition. Cam High, along with approximately 100 other students from across the county, arrived at 8:00 a.m and were provided a light breakfast. Then, all of the contestants were ushered into an auditorium for their first test.
The Geo-Challenge consists of two stages. The first is a 50-question individual test, aimed at gauging the students' technical knowledge and comprehension. The second stage is a competitive clash of six-person teams collaborating to answer a stated question as accurately as possible. This entirety of the competition lasts a total of four hour, with results being displayed after a brief lunch and need-based individual tie-breakers.
"I was constantly surprised to learn things I've never seen before. It was an extremely enriching experience," said Cam High's Naveed Tavasoli, junior, who placed fifth in the individual competition. Excluding Tavasoli, no other awards were won by Cam High's teams. First place prizes for team as well as individual competitions were won by Newbury Park High School.
Cam High did; however, excel in participation and community, being the most populated group of the competition. The club's faculty supervisor and Cam High U.S. history and geography teacher, Mr. Brett Ropes, said that the Geo-Challenge was open to every student and it formed a capable, cooperative bunch. "I thought we really worked well together. There were different teams in the club, but we all managed to support each other," said Tavasoli.
"I can't say we placed, but I can say I'm proud of them. When push came to shove, we had 22 kids with their parents show up and they did a good job, you know? […] Some of the other schools only had three students," said Ropes.
Past years have been more fruitful, with Cam High placing first through fifth place multiple times and earning a competitive history in the league.
Professor Christine Manzor, the incumbent overseer of the Geo-Challenge for a number of years, is retiring from her teaching post this year, leaving the future of the competition with a degree of ambiguity.
Leave a Comment
About the Contributor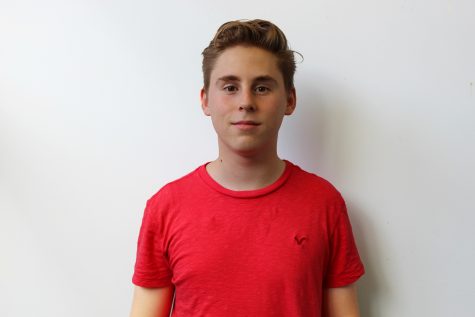 Dylan Lyon, Staff Writer
Hello kids, my name is Dylan Lyon, and I am staff writer for Cam High's best publication, The Stinger! My hobbies include reading, writing, watching TV/movies,...