Private school student, public school teacher
For a graduate of a private, independent Catholic high school, Mrs. Lucy Nakamoto is very comfortable in the public school environment.
This is Nakamoto's first year at Cam High and she currently teaches mostly sophomores in English 2.
"I love the students and staff here," said Nakamoto. "Everyone's been friendly and welcoming to me. I love teaching high school and I've always wanted to."
Nakamoto's last teaching job was at Fremont Intermediate Middle School in Oxnard, where she taught for five years. Although she misses Fremont's small campus and familiar environment, Nakamoto greatly enjoys teaching high school. "Eighth graders are a whole different thing than high schoolers, [but] not in a negative way," said Nakamoto. "I'm used to teaching middle school, but I think high schoolers are a lot more fun to teach."
Having grown up in Ventura County, Nakamoto attended La Reina High School in nearby Thousand Oaks. She then earned her English degree at Cal Poly San Luis Obispo and went on to receive her teaching credential at California State University Channel Islands (CSUCI).
The atmosphere at Cam High greatly differs from her old high school, according to Nakamoto. "Since La Reina was an all-girls school, I never got to experience the football games and everything that goes with that, so that's really different for me," she said. "It's also an adjustment to have athletes in class, who have [athletic] needs."
From an early age, Nakamoto was exposed to the world of teaching. Her mother was a teacher, and Nakamoto would often accompany her to work. "I helped her a lot," said Nakamoto. "That's where I discovered that I loved reading and words."
In the classroom, one of the things Nakamoto emphasizes is reading. "I think reading is really important. The more vocabulary [the students] acquire, the better the rest of their lives will be," said Nakamoto.
She also expressed her beliefs that the significance of reading would become evident in college and general life beyond high school."Since I've graduated from college recently, I feel like I know what skills are necessary. I feel like I'm doing this [teaching] to help [students prepare] for college, and not just because."
Outside the classroom, Nakamoto enjoys cooking and baking, being outside, hiking, and  reading. She was also just married on July 5 of this year. "My husband just moved here and we're still trying to work things out," she said.
Nakamoto said her favorite thing about teaching is "seeing [her] students grow into better writers and readers."
Leave a Comment
About the Contributor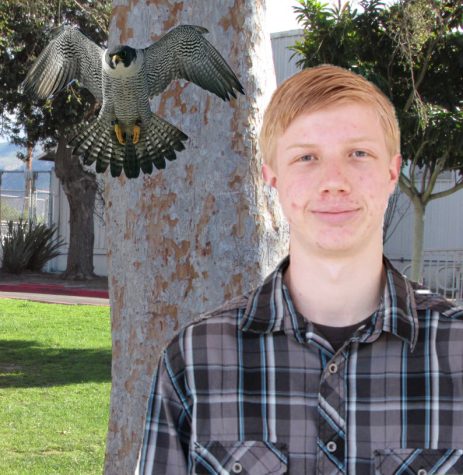 Sam Falconer, Retired Staff Writer (2014-2015)
Hi, I'm Sam Falconer. I'm a senior this year, so, yeah. Anyway, I am a film connoisseur and an avid reader and writer. I am also a lover of all things...